This Picture of Elvis and Nixon is the Most Requested Photo from the US National Archives
Of all the millions of historical photographs held by the US National Archives, the photo above is the single most requested. It was captured in the Oval Office on December 21, 1970, and shows Elvis Presley meeting then US President Richard Nixon.

The National Archives has created an online exhibit with the story behind the photograph:
On December 21, 1970, Elvis Presley paid a visit to President Richard M. Nixon at the White House in Washington, D.C. The meeting was initiated by Presley, who wrote Nixon a six-page letter requesting a visit with the President and suggesting that he be made a "Federal Agent-at-Large" in the Bureau of Narcotics and Dangerous Drugs.
The meeting was held in secret, as neither side wanted the general public to know about it:
Both Elvis and Nixon wanted to keep the meeting secret as Nixon's ratings were dropping and Elvis was planning a comeback; neither of their fans would understand a meeting between the two. The picture is now one of the most requested images in the National Archives and Records Administration, being more popular than the Bill of Rights or the Constitution of the United States. [#]
Here are more photographs from the set of images captured by Ollie Atkins (Nixon's personal photographer) during the meeting: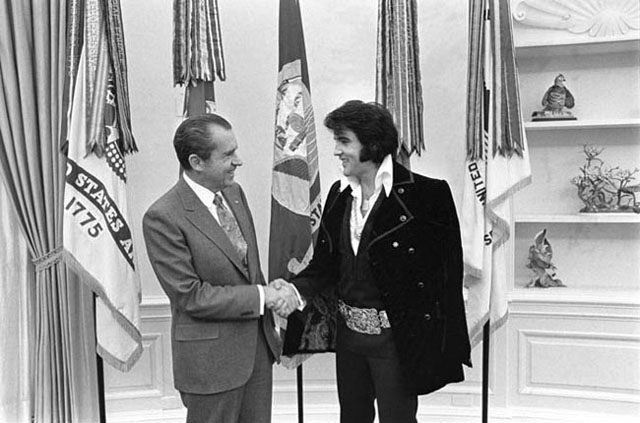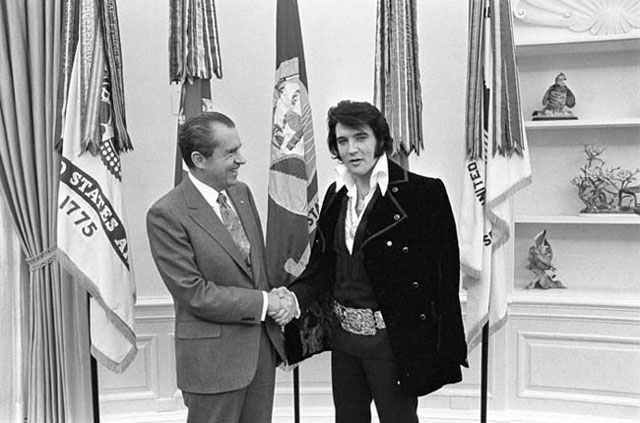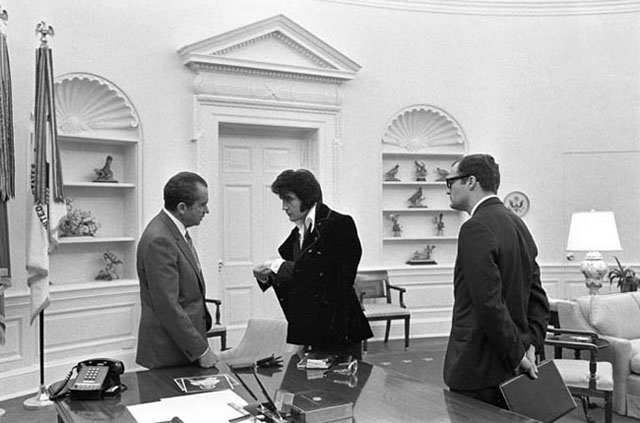 You can browse through a large collection of US National Archive photographs on the agency's Flickr account. You can also search through the official online catalog.
(via @USNatArchives via Gizmodo)