LA Public Library Wins $144,000 Bid to Secure 12,000-Photo Collection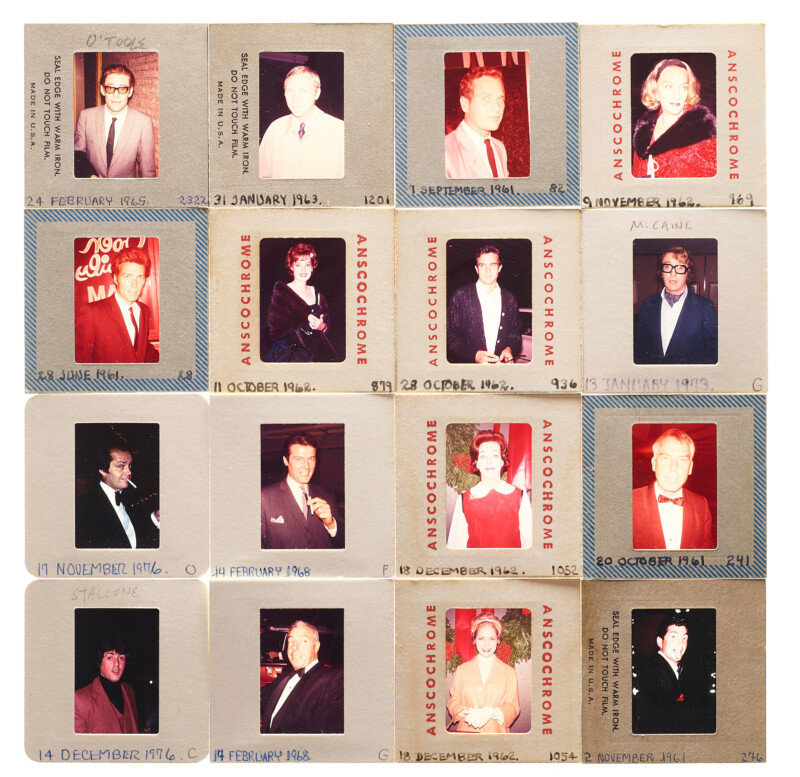 The Los Angeles Public Library won a $144,000 bid to purchase a collection of celebrity photos taken by the late Jon Verzi.
"An incredible and vast collection of approximately 12,000 previously unpublished color slides, the professional photographs taken by photographer Jon Verzi at various Hollywood events, chronicling the history of Hollywood from the early 1960s through the 1990s, the slides in card frames, the majority with Verzi's handwritten date," reads the description from auction house Bonhams.
The massive compilation features some of the biggest stars in history, including Marilyn Monroe, Elvis Presley, Judy Garland, Cary Grant, Andy Warhol, Truman Capote, Audrey Hepburn, Marlon Brando, Elizabeth Taylor, Bette Davis, John Wayne, Lucille Ball, Paul Newman, Dick Van Dyke, Ingrid Bergman, and Jimi Hendrix, among countless others. Even political figures like Martin Luther King Jr., Bobby Kennedy, and Richard Nixon are in the collection.
The photos are 2×2 inches each and mainly feature candid photographs, as Verzi had a great deal of access to the Hollywood scene through the press pass he obtained from a friend who published a fan magazine throughout the 1990s, according to Bonhams. However, Verzi requested that his collection not be sold until his death. The photographer died in 2018.
Christina Rice, head of the Los Angeles Central Library's photo collection, told the Los Angeles Times that the idea to purchase the collection started as a joke. She sent the information to librarian John Szabo, who saw less of a joke and more of an opportunity.
Libraries, of course, are more than storage depots for books on demand where people are told to be quiet every five minutes. They're local cultural epicenters that often serve as the most reliable, and sometimes only, keepers of a town or city's history.
Adding Verzi's collection to the LA Library's photo collection is part of keeping that history, Rice and Szabo agreed.
"This collection is so Los Angeles," says Rice.
However, the team from the LA Public Library had a bit of a battle to secure the 12,000 images.
"John [Szabo] controlled the paddle," she said. "I don't have a poker face. Someone online was bidding against us. There was applause when our bid (of $144,000) won. I exhaled. Maybe a tear fell. It was very suspenseful," Rice tells the LA Times.
While the images stretch back decades, they've been preserved very well.
"They're all in perfect condition. No fingerprints on them. The photographs look as fresh and clean as the day they were taken," Wendy Horowitz, a Los Angeles Public Library archivist cataloging the collection, tells the Los Angeles Times.
Now, Verzi's works will remain under the auspices of the public library, where they will be posted online after cataloging and archival, the LA Times reports.
"Looking at this veritable treasure trove of images," the Bonhams listing reads, "it is clear that Jon Verzi had unparalleled access to these celebrities and was present at every major Hollywood function during the 1960s-1990s, access which may never be replicated. This is a unique archive with substantial historical value."
---
Image Credits: Bonhams