LaCie's Rugged RAID is an External HD That Protects Your Files with Two Drives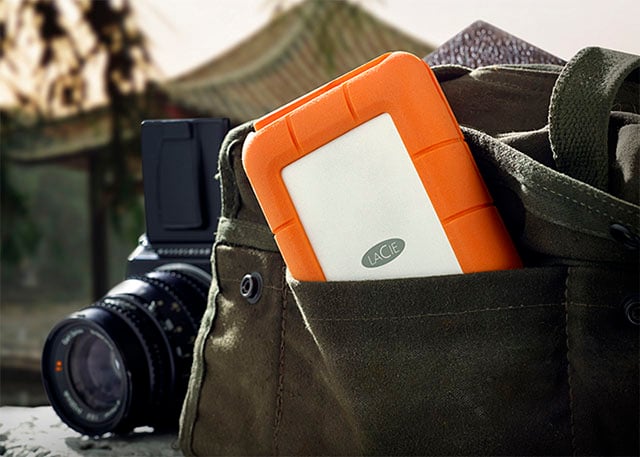 French computer company LaCie has announced a backup hard drive that's perfect for photographers who want to make sure their data stays safe in the field. Called the Rugged RAID, the device is super durable and can protect your photos by mirroring the data across two drives.


First, let's talk about the outside. The Rugged RAID features a bright orange shell that is resistant against shocks, dust, and water. You can drop it from 5 feet or apply 1 ton of pressure and the data inside should be fine. It can also survive water splashes and rain without the elements getting into the case.
Thunderbolt and USB 3.0 connections allow for data transfers of up to 240MB/s, meaning you can transfer 64GB of photos in less than 5 minutes. "This time savings is key for field–based professionals who collect and move tons of data onto external storage," LaCie says. The Thunderbolt connection is also used to power the drive, giving you more flexibility in where you work with your files.
On the inside are two 2TB hard drives. By default, you can use the Rugged RAID as a 4TB drive that can store the equivalent of sixty 64GB memory cards.
If you want to ensure that you're protected against data loss, you can use the RAID feature (AKA a "redundant array of independent disks"). Turning on RAID 1 activates mirrored mode, turning the device into a 2TB drive that stores two copies of every file (the default setting is RAID 0, or not redundant). This means if one of the drives fails, you'll still have your data on the other one.
You'll be able to purchase a Rugged RAID starting in the second quarter of 2015 for a price of $450.