Funny Business: Funny Portraits of Funny People Being Ridiculous at Home
There's something almost intimate about the comedian portraits in Seth Olenick's new photo book Funny Business.
Not intimate in a candid moment sort of way — that sort of candid is difficult to capture when your subjects have dedicated their lives making other people laugh. Seth's portraits seem to capture unguarded moments of humor, the kind you might imagine you would see daily if you were friends with these celebrities.
The project behind the photo book was no weekend endeavor. In all, Seth spent over 6 years traveling all over the US to meet these kings and queens of comedy at their own homes and capture their portraits.
"The majority of my shoots were done with just me and the subject, and rarely went beyond two hours," Seth tells us. "It created an intimate setting where they didn't feel as self-conscious as they might have with a whole crew standing around. This is very important to me since I am looking to capture everyone without having to rely on their on-stage or on-screen personas."
When we spoke to Seth about the project, we wanted to hear the anecdotes and stories that would really resonate with our audience. What was it like taking these portraits? What was the craziest thing he did? How did he set them up? And what was it like spending time one-on-one with the comic icons pictured in Funny Business.
Fortunately for us, Seth was very openhanded about sharing these stories. For example, he told us about the simple (sometimes treacherous) setup he used for most of the shots:
With the exception of the studio shots, I was able to shoot almost all of the portraits in the book with a one-light setup. The only problems I ran into were the wind blowing the light over every now and then (in the 6 1/2 years of doing the shoots, I broke probably 3-4 umbrellas), and one shoot that I did in the ocean (yes, I said IN) almost led to my light getting totally submerged. In the end, I got the perfect shot, and nothing fell into the water.
He also told us about the post-processing that went into the shots which, as it turns out, wasn't much. He was even brave enough to get chunks of raw meat involved in one of the shots:
I don't like to rely on Photoshop tricks except when it's absolutely necessary. With the shot of Reggie Watts, it had to be done in post. No way around that. The one of Nasim Pedrad actually included several real pieces of beef on the umbrella and the ground. Because I didn't want to cover an Upper West Side sidewalk in beef, however, the decision was made to add some more in post.

But there definitely were pieces of raw beef on the ground. Sorry to all the PETA people out there. That's what this website is, right? PETA Pixel? In all seriousness, I would encourage photographers to do as much in-camera as possible. It forces you to get creative in the moment, and will give you a better feeling of accomplishment in the end. Or maybe that's just me.
Another fun story comes from the nude Bobby Lee photo:
Bobby Lee really was naked in the photo. I'm not sure if I asked him to do that, but I probably did. It really was meant to be a play on the word "cock" in a different setup we did. I just thought this one had so much emotion and tension that it had to be included in the book.
Below you'll find the Bobby Lee photo alongside a further selection from Funny Business that Seth was kind enough to share with us. Each funny shot is accompanied by a caption written by the subject themselves.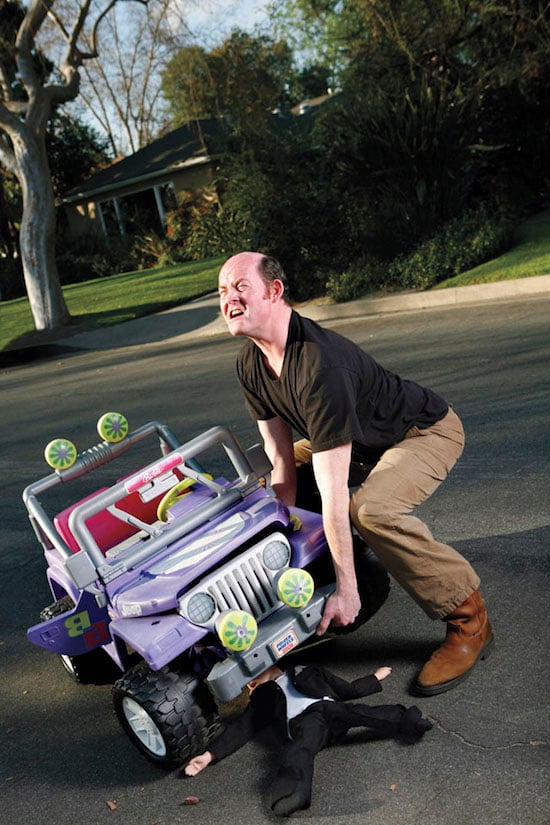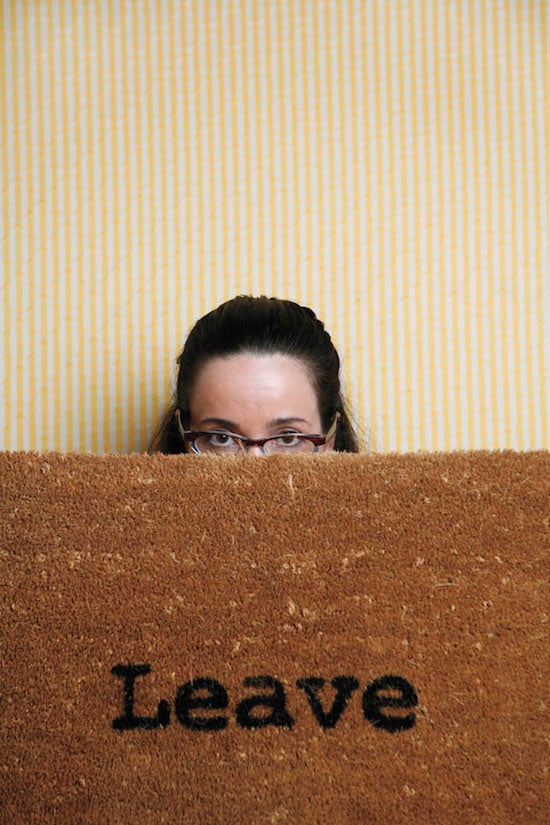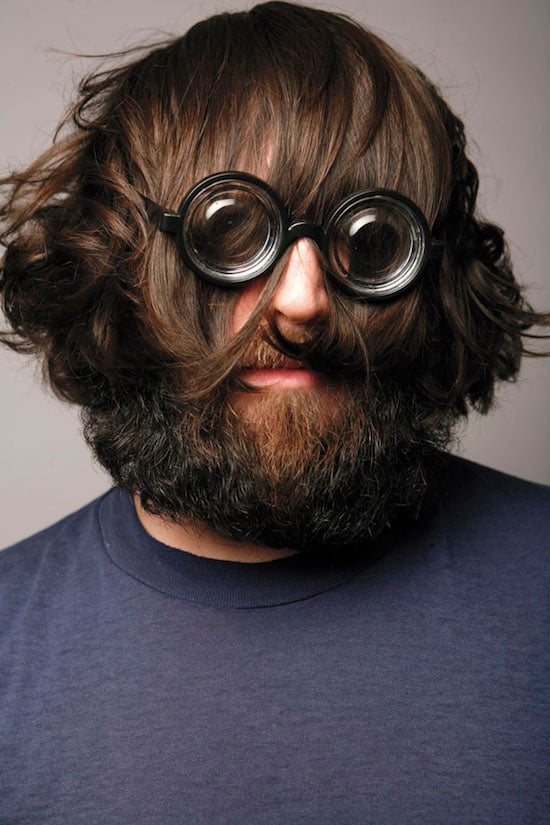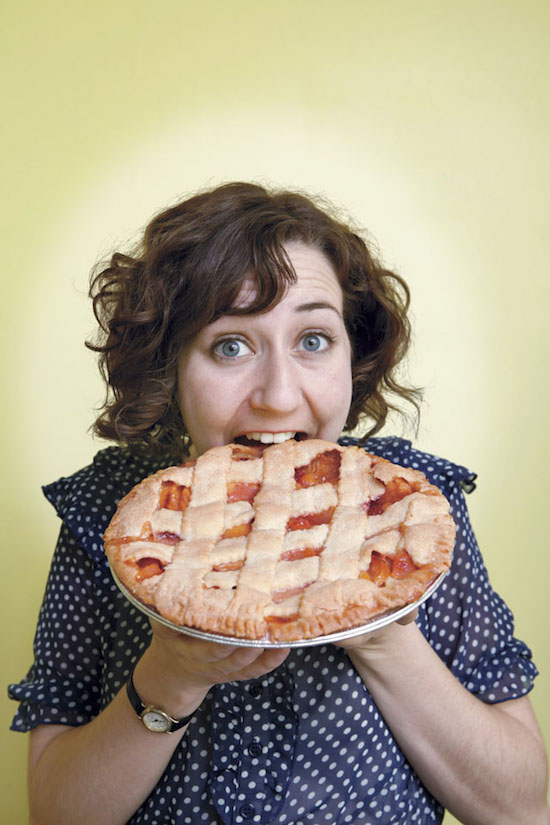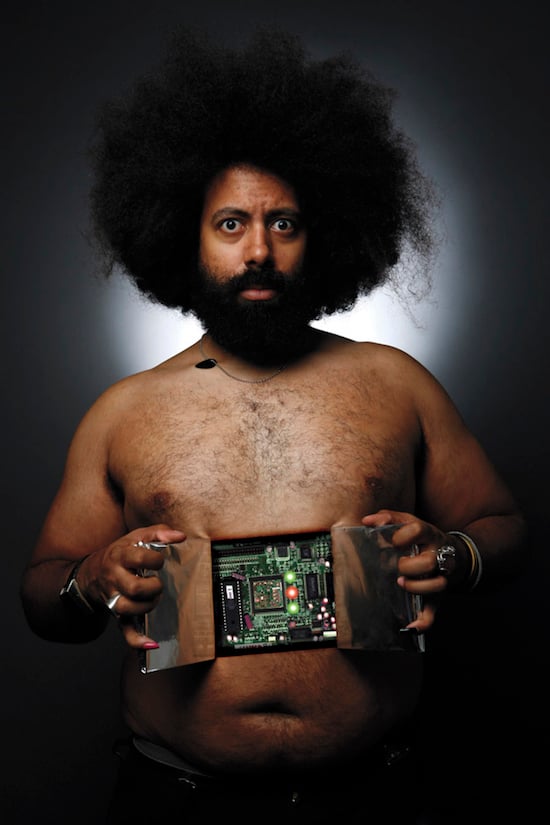 The full 235-page book contains a total of 213 portraits, so this really is just a small taste. To see them all, you can pick up the regular and limited edition versions at this link. Until December 9th, you can get the regular for $55 ($10 off) and the limited edition for $110 ($15 off). You can also pick up individual prints.
And if you'd like to browse through the rest of Seth's portfolio, pay his website a visit or give him a follow on Twitter and Instagram
(via Feature Shoot)
---
Image credits: Photographs by Seth Olenick and used with permission