Intimate, Painterly Photographs of London Bus Passengers On Their Nighttime Commute
Photographer Nick Turpin's series Through a Glass Darkly takes a different approach to candid street photography than we typically see. Turpin captures London bus commuters on their way home after a long day, and his photographs are at once artistically compelling and potentially controversial.
Is this voyeurism? Is it street photography? The viewer (or at least this viewer) is torn between the two. The moments captured are at once public and intensely personal.
Exhaustion is often the least of the emotions writ on many of the subjects' faces; we see glimpses of hopes, dreams, frustrations, and fears staring at us through the fogged up glass of the bus window, and we don't know if we're being allowed into this moment or taking it by force.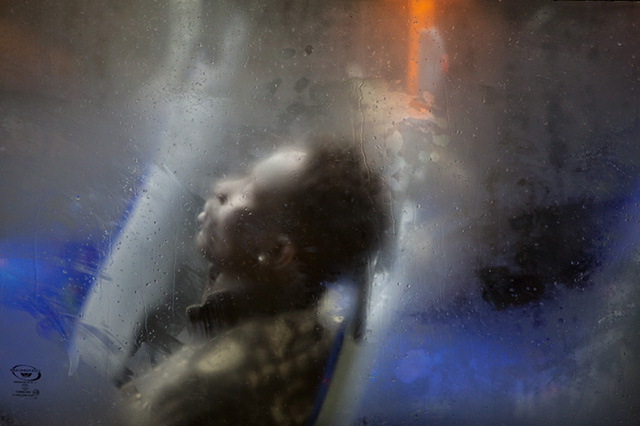 "Most of my work takes a Street Photographers approach because I'm interested in recording the way that we live and making as close to a document as photography is capable of," Turpin told us when we reached out to him. "I photograph people without interaction and the pictures are un-retouched apart from colour and contrast corrections."
That much is obvious. These feel like raw and real moments, captured in all their candid glory from a raised platform by the street that gives Turpin an unfettered view into the upper deck of passing busses.
It's amazing how much variety there can be in the pictures, the people, the weather, the age and type of bus all play a part, I even have a shot with blue light in the background from a passing police vehicle. The pictures are intimate glimpses of people during that strange time between leaving the office and arriving home when you are almost between two identities. The project also raises questions about voyeurism and public and private space.
Gear-wise, Turpin uses a Canon DSLR with a 70-200mm lens and the benefits of image stabilization. "I'm generally shooting handheld at about 1/40th of a second," he tells us, so the IS "is crucial" for capturing the shots he does.
Here's a BTS photo of Nick at work shooting the series during the winter months, shared exclusively with us: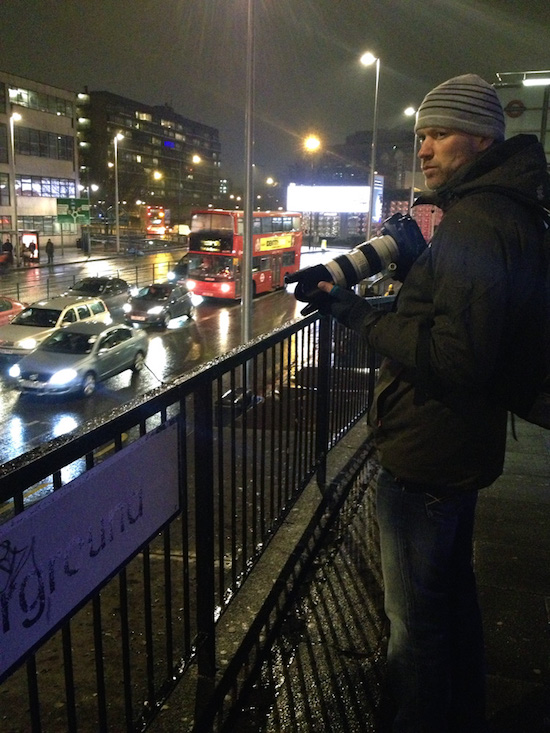 Thanks to the fogged glass, the final images look less like voyeuristic street photographs and more like intimate paintings. Or, as Turpin puts it, "The artificial light and the condensation and rain on the windows gives the pictures a surreal painterly look, they become mysterious and beautiful."
To see the rest of the images from the series, head over to Turpin's website by clicking here. You can also follow him on Twitter or Flickr.
(via Juxtapoz)
---
Image credits: Photographs by Nick Turpin and used with permission