Photographer Captures Her Daughter's Connection to the Sea in Graceful Underwater Portraits
Bahamas-based underwater photographer Elena Kalis and her daughter Sacha Kalis have a deep connection with the water. Elena has been an underwater photographer for many years, and Sacha, thanks in part to her mother's encouragement and in part to her own natural affinity to the water, says she "learned to swim before she could walk."
Together, they create dream-like, peaceful portraits that capture Sacha's world beneath the waves and her connection to all the creatures that make the waters of the Bahamas their home.
For Elena, the underwater realm is alive in a way that the land above just can't match. "The underwater world is dreamlike and lucid and just a different world overall," she told RagMag in an interview. "I feel a fusion of respect, awe, sensuality, and mystery when shooting underwater and in the ocean in particular."
Her daughter Sacha mirrors this opinion when she describes her relationship with the "world below the waves." She talks about, "an environment where light, movement, and weightlessness create an amazing, dreamlike quality to images."
Mother and daughter, connected to the water as they are, make for a wonderful team. Photographer and model, the images they create together have us aching for the warm waters of the Bahamas and the solid feel of an underwater housing in our hands: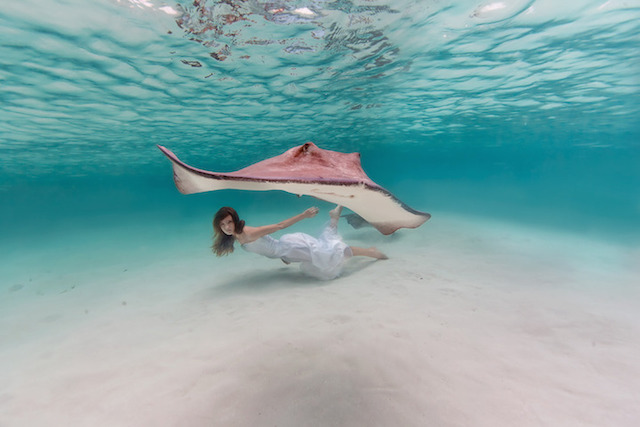 To see more of Elena's work, be sure to visit her website, Facebook, Twitter or Instagram. And if you'd like to follow Sacha specifically, she has her own website where you'll find links to all her social accounts and blog as well.
---
Image credits: Photographs by Elena Kalis and used with permission