Paris Views: Voyeuristic Portraits of Parisians Captured Through Apartment Windows
Photographer Gail Albert Halaban calls herself a 'friendly window watcher.' In 2009, this manifested itself in the much-lauded photographs of her New York City neighbors in the series Out My Window, and now she's back with another series/book of similar portraits captured in the City of Light: Paris.

As with Out My Window, the photographs in Paris Views need not make you uncomfortable, because the scenes are all staged. Halaban spoke with the people she was photographing and the people whose apartments she was photographing from before taking any of the photographs she did.
Knowing that, her message of connection, of trying to contrast the privacy that is inherent in your own space with the constant connection that people living in a big city together cannot truly escape.
Halaban elaborates further on this in the short video below:
The beauty of the images is unquestionable. Beautifully composed and perfectly exposed so that the surroundings, the building, and its residents all complement each other, every photo is peaceful and candid.
"Through Halaban's lens, the viewer is welcomed into the private worlds of ordinary people," reads the press release. "The book's photographs explore the conventions and tensions of urban lifestyles, the blurring between reality and fantasy, feelings of isolation in the city, and the intimacies of home and daily life."
Here is a selection of photographs from Paris Views: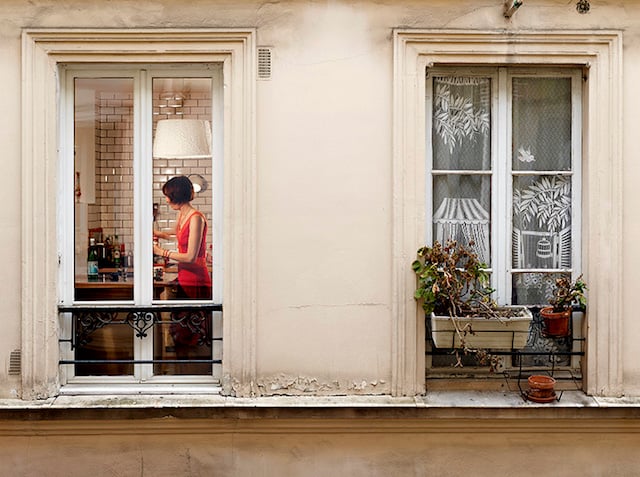 Published by Aperture, the 120-page, 60-image book is available in hardcover for $68 to anybody who would like to own these images.
To see more of the photographs from Paris Views, find out more about the photographer, or peruse more of Halaban's work, pay her website a visit by clicking here.
---
Photo credits: Photographs by Gail Albert Halaban, courtesy Edwynn Houk Gallery.