This Nighttime Shoot Involved 9,000 Pounds of Gear and Skiers Covered with 7,000 LEDs
The film 'Afterglow' by Sweetgrass Productions doesn't even officially release until October 19th, and yet it's already being hailed as "one of the most cinematically profound ski movies ever made." The three-minute teaser above gives you an idea of why.
Not only was it an incredibly complicated idea that directors Nick Waggoner and Mike Brown sought to shoot, but even if you couldn't care less for the technical aspect, you'll appreciate just how much of a departure this is from a genre grown very stale over the past few decades.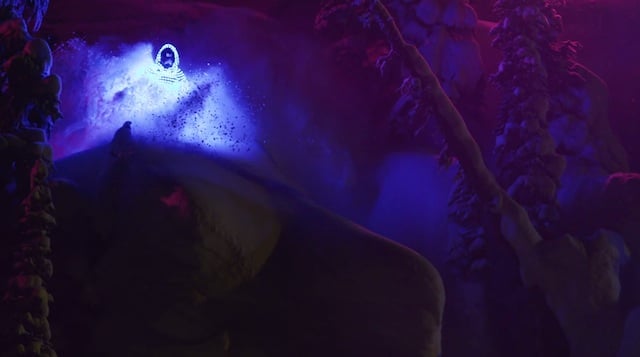 According to a detailed behind the scenes report by Wired, capturing these scenes was no easy task. The skiers had to have 7,000 LEDs sown onto their gear, and each time an LED burnt out or stopped working, repairs needed to be made on-location.
And the skiers weren't the only ones lit up. The whole mountain had to be colorfully lit, a feat achieved by using eight 4,000-watt lights, accented by smaller contrast and fill lights.
Including the RED EPIC cameras they were using, Wired reports there was about 9,000lbs worth of gear involved… gear that had to be flown in on FIVE separate planes during the downhill portions filmed in Alaska.
To top it all off, pro skiers Pep Fujas and Eric Hjorleifson had to navigate terrain that would make other skiers tremble without the benefit of daylight. Waggoner wasn't exaggerating when he told Wired, "I can't even begin to explain how difficult the whole thing was."
Check out the video at the top to see what all this work and gear produced, or at least a teaser of it, and be sure to follow this link to see the full 12-minute film on Sunday. For a lot more details and behind the scenes pictures showing how they made it happen, head over to Wired at the link below.
What's Harder Than Skiing at Night in an LED Suit? Filming It [Wired]