SMWH.RE Uses Instagram Photos of Beautiful Locations to Inspire Your Next Photo Excursion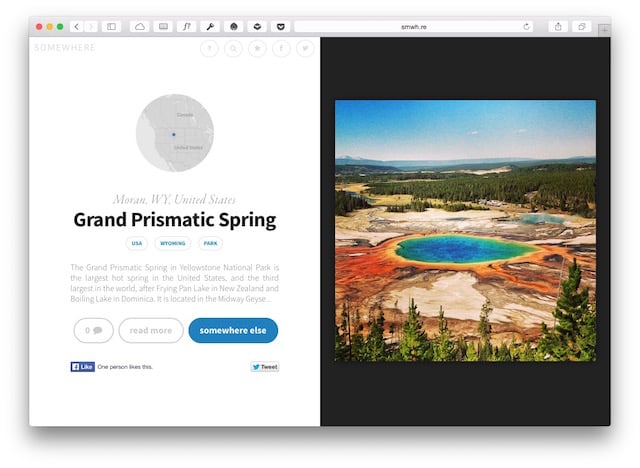 SMWH.RE is an Instagram-based web app designed for those experiencing a slight bout of wanderlust. The well-designed app is simple: it brings the gorgeous landscape photography you see online into the realm of possible vacation destinations by displaying photos alongside their accompanying geographical location and a short description.
SMWH.RE was created by Parisian designer Benjamin Netter, and the premise behind it was to inspire soon-to-be travelers.
One by one, you can browse through the curated collection, reading about the location in more depth via a "read more" link that shoots you to the spot's Wikipedia page. Photographers are credited by linking the photo back to the original profile.
The basic browser is random, but if you'd prefer to seek out a specific location, Netter's simple tagging system lets you search for the spot you're wanting to visit.
It's fun, simple and sure to help you burn a few minutes of productive time by continually clicking 'somewhere else' in search of the next beautiful location. To check it out for yourself, head over to SMWH.RE by clicking here… but don't plan on getting any work done for a while.
(via Trend Hunter)