By the Silent Line: Beautiful Photos of a Parisian Railway Being Reclaimed by Nature
Photographer Pierre Folk has spent 3 years documenting the same, 20-mile long stretch of Parisian railway with his 4×5 view camera… but he's not doing it because of the trains. No, in fact, no trains have run on this railway in for 80 years.
The photos are Folk's way of examining the complex relationship between society and environment.
The railway in question is called La Petite Ceinture, or The Little Belt for us English speakers, and it has surrounded a piece of Paris since 1852. Unused since 1934, nature has come a long way in reclaiming this railroad, and its this reclamation that you see in Folk's series By the Silent Line. But humanity is starting to push back.
Neighborhood by neighborhood, construction projects are launched and old stations are turned into bars, restaurants, or shops. Some Parisians want to preserve the railway, which Folk maintains could be usable again with just some minor rehabilitation, while others see it as a real estate opportunity.
Whatever route the 'rehab' takes, one thing will stay constant: Folk will be there, View camera in hand, to document the ongoing battle: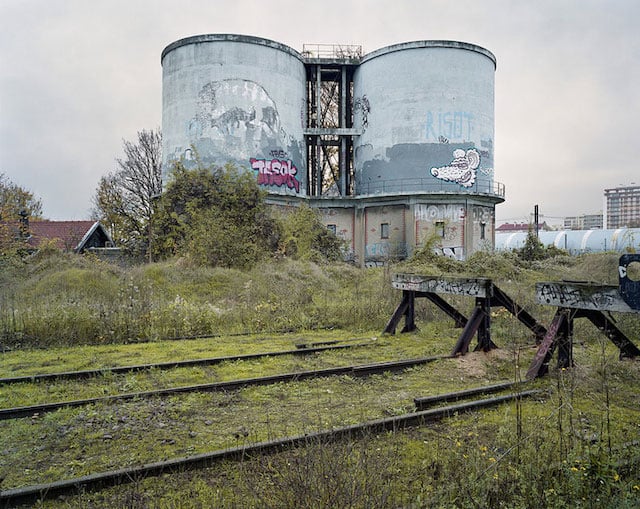 When we spoke to Folk about the series, he revealed that it wasn't really about a rail line at all:
The series isn't about the line. Of course it depicts the line, but it does so to make a point. I created By the Silent Line to deal with our tendency — as a species — to move on to something else, to the next paradigm shift, in a heartbeat. Thus, leaving things behind.

Also, as a story within the story, I believe the series also says a great deal about man and his need for escape. I guess it can be felt in the negative space of the story.
To see many many more photographs taken By the Silent Line, be sure to visit Folk's website.
(via Colossal)
---
Image credits: Photographs by Pierre Folk and used with permission