The Internet Archive Joins the Commons, Uploads Millions of Historic Images to Flickr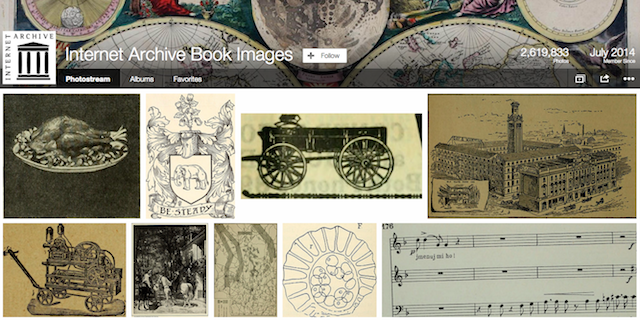 14 million historic images collected from over half a millennium's worth of books are currently making their way, million-by-million, onto the Flickr Commons courtesy of a man named Kalev Leetaru and an organization called The Internet Archive.
The Internet Archive is a digitization project that is making imagery from over 500 years worth of books available to the whole world. Using special software designed by Leetaru, they've gone through over 600 million scanned library book pages, automatically pulling out, cataloging and tagging the imagery therein.
In all, The Internet Archive's archives hold some 16 petabytes of imagery — about 14 million images in all, published in books from 1500 to 1922 when copyright restrictions take effect — and 2.6 million of those are now on Flickr for you to peruse and use as you see fit.
Here's a photographic sample of what they've uploaded so far:
As explained on the Flickr Blog:
Perhaps what is most remarkable about this collection is that these images come not from some newly-unearthed archive being seen for the first time, but rather from the books that we have been digitizing for years that have been resting in our digital libraries. Through the power of big data we are suddenly able to view the world's books not as merely piles of text, but as individualized galleries of one of the richest and most diverse museums of imagery in the world.
If you're interested in reconnecting with the past and browsing some of the oldest images to ever appear in print, head over to the Internet Archive's Flickr account by clicking here.
(via BBC)
---
Image credits: All images are public domain, courtesy of The Internet Archive