BTS: Making and Using a Massive 27-Bulb, 4′ Diameter Ring Light
Photographer Dani Diamond is the man behind one of the most impressive ring lights we've ever laid eyes on. With 27 bulbs and at four feet in diameter, this continuous-lighting setup doesn't play around.
And after getting more questions about the light than he could possibly reply to one at a time, he decided to create the above video, explaining how he built it, why he built it, and why it's his most treasured piece of lighting gear.
The idea to create this beast came from photographer Jay Russel. After Diamond saw Russel's endeavors to create his own ring light, Diamond wanted to give it a shot, himself. So, with three priorities in mind: clean, cheap and big, Diamond started work on it. After $120 in supplies and two days worth of work, the ring light was finished.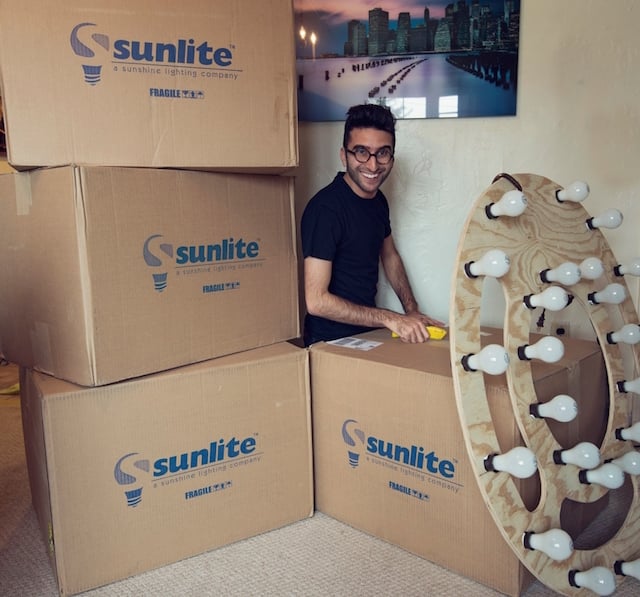 Upon hearing about the project, Sunlite endorsed Diamond, sending him over 1,000(!) lightbulbs to experiment with. A bit more expensive than standard incandescent, these Sunlite bulbs are low wattage, but still give off a wonderfully-neutral glow, perfect for portraits.
In the words of Diamond, himself, as shared over on Fstoppers, "Over the years I have learned to take risks and chances like this, and have been greatly rewarded."
Be sure to give the video a watch and check out some of the resulting images, below.
To keep up with Diamond and any future DIY endeavors of his, you can follow him over on his Facebook Page.
(via Fstoppers)
---
Image credits: Photographs by Dani Diamond and used with permission