Cartier-Bresson's 'The Decisive Moment' is Back in Print 60 Years After the First Run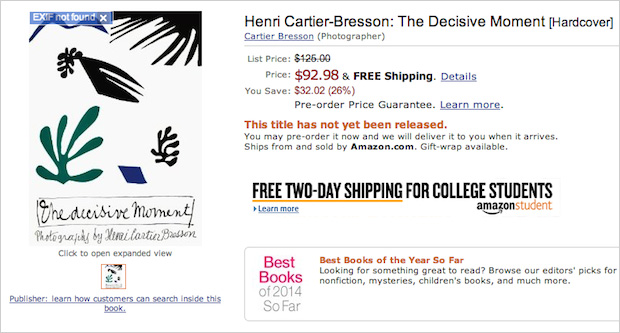 Henri Cartier-Bresson is a name forever engraved on the face of photographic history. Known for his humanist approach to photography and the world around him, the so-called father of street photography defined his photojournalistic style with each snap of the shutter.
And while his individual photographs are something to marvel at in their own right, one of the greatest contributions he ever gave the world was a book called The Decisive Moment, which you can now once more own without spending $500+ dollars.
Originally released in 1952 with the title Images à la Sauvette, the elaborate photo book was first published in French by Verve, with the English version making its way onto shelves thanks to Simon and Schuster.
The 10"x14" photo book documents a twenty-year period of Cartier-Bresson's greatest work, from 1932–1952. In it is a collection of words and photographs from him, which focus on the idea that each photograph is the culmination of a number of individual elements that come together to create a decisive moment.
One of the most well-known books in the history of photography, the editions printed off by Simon and Schuster were the last and only ones to ever hit shelves. Up until now, if you wanted to get your hands on one, you had to search through online marketplaces for a used copy. And if you found one, chances were good it would cost you no less than $500.
But those days are gone. Meticulously recreated from the original book, publisher Steidl has taken every detail into account to create a verbatim copy. The only change is an additional booklet with the history of The Decisive Moment by Clément Chéroux.
And the best part? This copy isn't going to set you back five Benjamins.. Only one.
Currently available for pre-order on Amazon, Henri Cartier-Bresson's The Decisive Moment is up for sale once again, over sixty years after its initial release, for $93. Head on over to Amazon to secure yourself a copy and then mark October 31st, 2014 on your calendar, because that's when your book will ship.