Haunting Photographs of Nagasaki Taken One Day After the Atomic Bomb Dropped
This week, 24 incredible, powerful, haunting photographs will be going up on the auction block at Bonhams in New York. These are photographs that are newly-discovered, and many of them have never been seen before as they were taken with a faulty camera and never made it in front of the public eye.
They are photographs of Nagasaki, Japan, taken by celebrated Japanese military photographer Yosuke Yamahata the day after an atomic bomb was dropped on it and Hiroshima.
When the bomb was dropped on the 9th of August, 1945, Yamahata was actually on an assignment near Nagasaki. As soon as he heard the news, he hopped on a train with a writer and painter to go document the devastated city.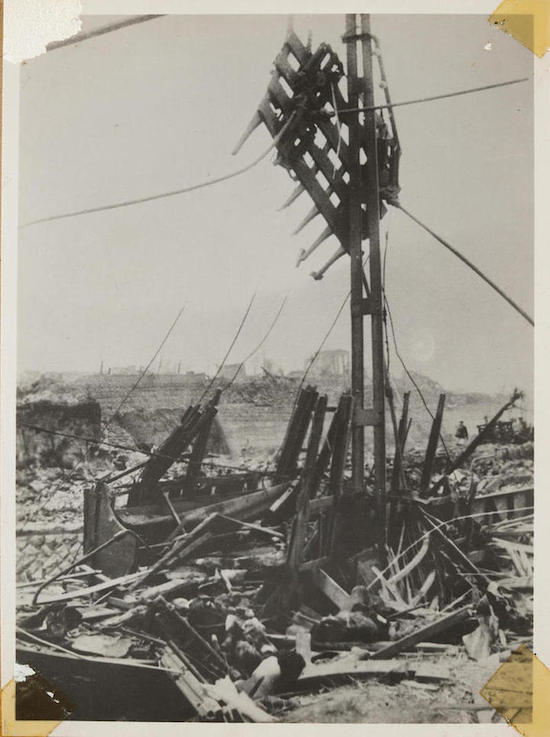 His assignment was to document the city in pictures that would be used for military propaganda, and so he spent that day taking a total of 119 photographs of the destruction that the atomic blast had left in its wake.
Unbeknownst to him, one of his cameras had a faulty shutter mechanism, and so many of the photographs turned out unusable for his purposes (12 of the images at auction are thought to be from this camera), but many of the ones that did turn out appeared, on August 21st, in Mainichi Shimbun.
However, the images didn't remain in the public eye long. Once American forces arrived, censorship ensued and the images were pulled.
Yamahata was able to hide the negatives, many of which have become iconic in the intervening years, but these particular photographs were found in a photo album of an MP that confiscated them from a citizen in Osaka. It appears he had no idea of the significance of the photographs he had taken and preserved.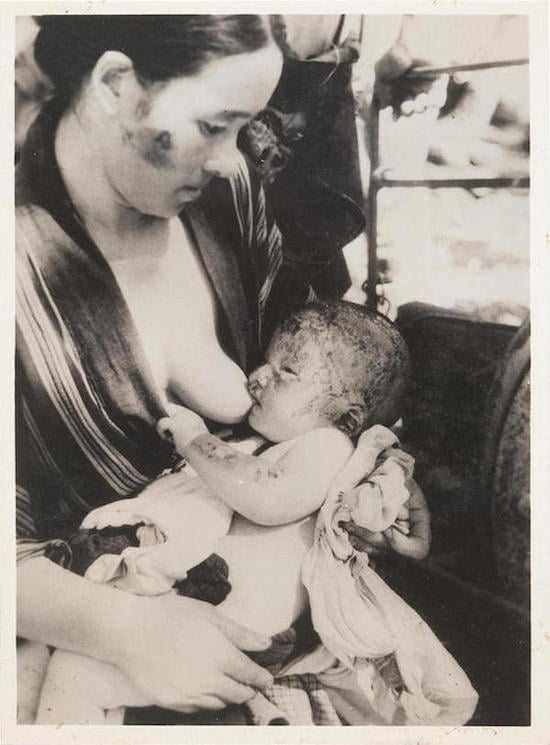 Speaking of what he saw in Nagasaki, Yamahata called it a "hell on earth." And, in fact, capturing these images likely cost him his life in the end. Yamahata died in 1966, at age 48, from a cancer that it is very likely was caused by his exposure to radiation in Nagasaki.
And yet, he realized the importance of these images, despite what capturing them ultimately did to his body. As quoted by The Independent, in 1952 he wrote:
Human memory has a tendency to slip, and critical judgment to fade, with the years and with changes in life-style and circumstance. But the camera, just as it seized the grim realities of that time, brings the stark facts of seven years ago before our eyes without the need for the slightest embellishment
The photographs at auction this week — these images of a reality many would rather turn away from — are expected to fetch between £15,000 and £21,000, or approximately $25,000 to $35,000. To learn more about the photographs you see above, or explore them in more detail, head over to the Bonhams website by clicking here.
(via The Independent)
---
Image credits: Image(s) copyright Shogo Yamahata, provided courtesy of Bonhams.
---
Thanks for sending in the tip, Sam!