NewViewWear: Clothes with a Life-Logging Camera Built Right In
It was inevitable. As camera tech progressed, cameras became smaller. As cameras became smaller, their implementation into more areas of technology and culture as a whole became more ubiquitous.
Where we currently are in this ongoing progression is a turning point of sorts where cameras are as wearable as the clothes on our back, and NewViewWear just took it a step further with a new line of clothing that has a camera built right in.
Deeming it "smart apparel," the idea behind the clothing line is that they build a small, removable life-logging camera right into a small pocket within your shirt or hoodie of choice.
The 10mm thick (or rather, thin) camera can then capture up to 1080p video and 5-megapixel photos, snapping or videotaping away and storing it on command with some help from the company's proprietary software.
Matt Sandy, the founder of NewViewWear, explained the concept a bit further when he spoke with Digital Trends:
We designed everything in-house: the software, hardware, and the apparel. The idea is to push [wearable technology] forward so that we properly utilize the real estate that's already there — since you're already wearing it, NewViewWear allows you to fully take in the world around you.
As you might expect, the camera isn't stuck inside the clothing forever. You can remove it and mount it in other places from whence the tiny camera can use its 100º angle of view, a microphone and the modes described below to document every boring, embarrassing, or exciting moment in your life:
Time Lapse Photography Mode: Allows you to capture several images using a delay of 1 to 120 seconds.
Automated "Time Lapse" Video Mode: Set a video capture length and time-lapse interval of your choosing, and record footage automatically.
Loop Recording Mode: Choose the length of recording loops.
Wireless Connectivity: Operate the camera remotely via smartphone app to record and view photos and videos, change camera modes, store footage, and share it with others.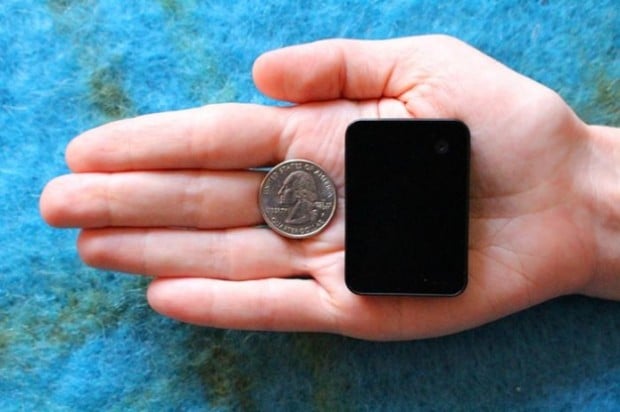 What distinguishes this wearable camera from many others (in addition to the attached clothing) is its aforementioned software, which is downloaded to a phone in the form of an app. Presumably using bluetooth for connectivity, you can choose how long you want your footage to be "looped" for and save select snippets at the tap of a finger.
Initially available in the form of a polo shirt, a fleece jacket, and a zippered hoodie, more fashion choices will be added pending the success of the IndieGoGo campaign. Right now it's 0% funded with a goal of $100k, so it's not looking extremely promising, but there are still 33 days left and the concept is, if nothing else, interesting.
If you'd like to make a pledge and secure your camera/clothing combo, you can do so by clicking here and putting down $190. As for what piece of clothing you'll choose, that's all up to you.
(via Digital Trends)