Camera and Memory Card Found After Two Years in the Pacific, Photos Still Intact!
Maybe we don't give memory cards enough credit, because for all of the stories of corrupt files and irretrievable photographs, we have some astounding stories of memory cards performing above and beyond what anybody thinks they could possibly do.
The video above shares one such story that surfaced (pun intended) recently, of a memory card and camera that were discovered after spending two years at the bottom of the North Pacific ocean. You see where we're going with this… the photos survived.
The camera and card went down with the ship off the west coast of Vancouver Island two years ago when artist Paul Burgoyne shipwrecked on a 500-kilometre voyage from Vancouver to his summer home in Tahsis, B.C. Burgoyne, understandably, never expected to see those photos again.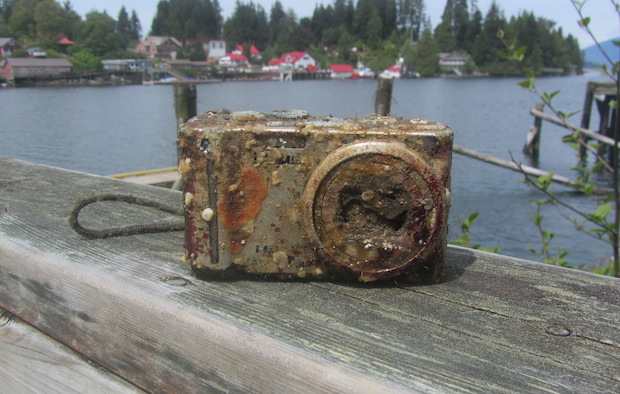 But he should have been more optimistic, because earlier this month, Bamfield Marine Sciences Centre university students Tella Osler and Beau Doherty discovered the camera while conducting research dives off Aguilar Point, B.C.
The camera, as you can see from the photo above, was in pretty bad shape. In fact, Professor of Marine Ecology at Simon Fraser University, Isabelle M. Côté, told CBC News that, "there were multiple marine species, from two kingdoms and at least seven phyla, living on the camera when it was found."
None of that could stop the little memory card that could though, because when Côté plugged in the now-dry 8GB Lexar Platinum II card, it worked right away. She pulled the photo below, Tweeted it, and hoped for the best.
2/2 So the camera sat on the bottom of the sea for nearly 2 yrs. Know anyone in this pic? #SciDive2014 #Detectives pic.twitter.com/mEhHaazzah

— Isabelle M Côté (@redlipblenny) May 14, 2014
And the best worked out! According to CBC, a member of Bamfield coast guard station who helped rescue Burgoyne two years prior recognized him from the family photo and got in touch. After two years in frigid Pacific waters, the card, which included priceless photos of his family scattering his parents' ashes at Lake of the Woods in Ontario, is making its way back to its owner.
Now all Burgoyne has to do is wait a couple more days. Well, that and field calls from Lexar marketing department people who would be crazy not to make a commercial out of this.
(via CBC News via 4/3 Rumors)
---
Image credits: Photograph by Isabelle M. Côté and used with permission