Google Street View Now Lets You Go Back in Time, No DeLorean Required
Get ready for a whole slew of "Then and Now" photo series featuring Street View images, because Google just turned the entire service into a convenient time machine.
Announced today on the Google Lat Long Blog, the feature allows users of Google maps on the desktop to turn back time and see how a particular place has changed over the years since Google began photographing the streets in 2007.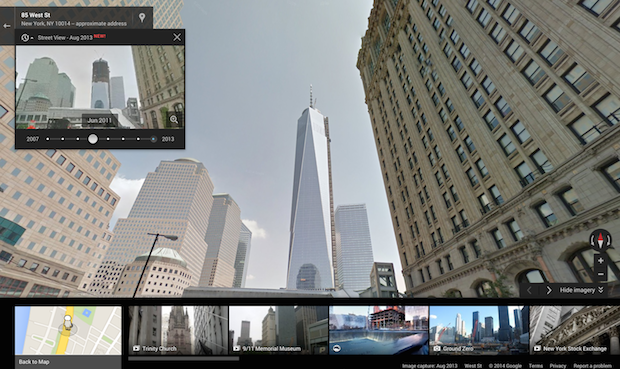 Depending on what you're looking at, you'll have more or less (or no) options over how far back you can go or how many steps there are in between, but when you see the little clock icon in the upper-left-hand portion of the image you'll at least be able to see a couple of images that show how that particular spot has changed.
For now this ability is limited to the desktop (and there's no talk yet of expanding it beyond there) and is rolling out to users today. If it's already available to you, we highly suggest you give it a shot — whether you're wanting to watch a skyscraper like the Freedom Tower in New York get built or you're more interested in watching a community rebuild after a natural disaster.
As Street View Product Manager, Vinay Shet, put it on the Lat Long Blog, "Forget going 88 mph in a DeLorean — you can stay where you are and use Google Maps to virtually explore the world as it is — and as it was. Happy (time) traveling!"
(via Engadget)