Blackmagic Cinema Camera Mysteriously Bursts Into Flames During Video Shoot
Malfunctions don't get much more catastrophic than this when it comes to cameras. While shooting a Kickstarter video with a Blackmagic 2.5K Cinema Camera, Producer Forest Gibson reports that the camera "burst into flames filling [his] apartment with smoke."
According to planet5D, the 6-month-old camera malfunctioned one week ago today while Gibson and his crew were shooting a Kickstarter video for a new video game. As soon as the camera started spewing smoke, they all got out of there, but wanting to recover the footage they returned soon after with damp rags over their mouths and filmed the footage you see above.
Ummm my BM 2.5k camera just burst into flames filling my apartment with smoke… @Blackmagic_News help?

— Forest Gibson (@forestgibson) March 15, 2014
Although in the video Gibson blames the battery, further investigation over the past week has led them to discount that theory. The manufacturer of the battery told Planet 5D that they had spoken with Gibson and found the battery was working fine, and Gibson himself admits it was cool to the touch when he removed it.
Whatever the case may be — according to the battery manufacturer, Blackmagic is checking to see if the problem was a short in the camera itself — when Gibson returned to try to salvage his work, he found the Solid State Drive fried, all of the footage lost and the camera 'beyond gone.'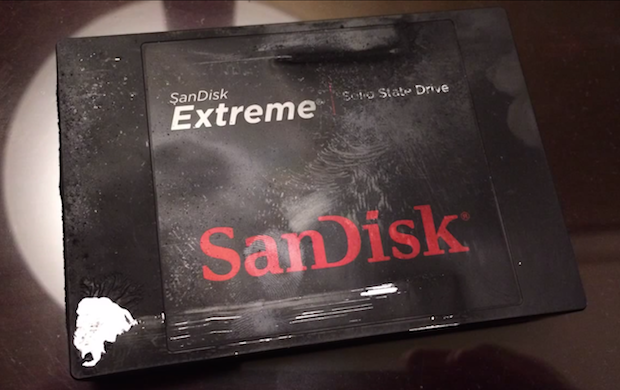 It's worth noting that this seems to be a one-time deal. No other Blackmagic cameras have done this that we or planet5D can find and BM has responded to the situation quickly and professionally to make sure that it isn't a more widespread problem.
That being said, if your BM 2.5K cinema camera all of a sudden bursts into flames this week… well… you're not alone.
(via planet5D)