NailSnaps Turns Your Smartphone Photos Into Nail Art
Have you ever been sitting around and thought to yourself, "I wish I could put my Instagram photos on my nails, rather than paint them"? Well, even if you haven't, Angel Anderson and Sarah Heering did. Now, with some crowdfunding help, they're working to bring to life a service and product that does just that.
Called NailSnaps, the concept is fairly simple. As the video above explains, you simply select a photo from your mobile device, use a template to place the image across your nails as you please, send off the result, and they'll ship you your nail art stickers.
You can choose between two methods of displaying the image, continuous or repeated. Continuous will give you a panorama-type view of the image you selected across your nails, while repeated will copy a single part of the image across all nails.
Once you have selected the method of printing you'd like to use, you select the size of the stickers: small, medium and large (using your nails width as the size differentiator), then send the design to NailSnaps directly from the app. Within a week you'll have twenty (ten in medium as a fallback and ten in the size of your choosing) nail polish stickers to place on your nails and file down, accordingly.
At first the app will be available for iOS with Android said to be on the roadmap after their initial launch (assuming the funding goal is reached).
Also on their roadmap for the product is a marketplace that will allow you to sell your own favorite nail templates to those who would like to adorn their fingers in your art. I assume that rather than getting cash, the money would go towards credit in the store, but that's purely speculation on my behalf.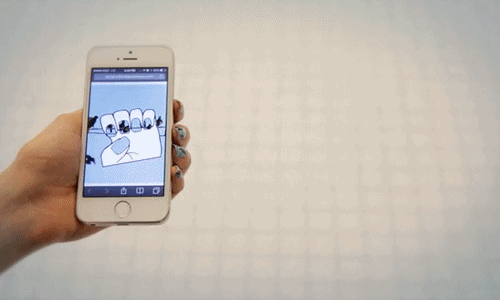 The final price of the stickers isn't set in stone yet, but the team is planning on keeping up with competition in the nail art market by selling their creations for $20 or less per set of 20 stickers.
Right now though, you can get your not-yet-decorated hands on the beta of the application before it's released to the public with a pledge of $5. Up from there, your pledge will increase the amount of NailSnap credits you will get and determine whether you get some "prototype" NailSnaps.
With 18 days left to go in the funding, they're still roughly $30k short of their goal. Who knows if this will ever see the light of day, but if you'd like to see it do so, head on over to their Kickstarter campaign and make your pledge.
(via Huffington Post)