LEGOgrapher Tours the World in Viral 365 Project Shot on an iPhone 4S
Human photographers aren't the only ones dragging their cameras to every corner of the globe in search of the decisive moment. As it turns out, a little LEGO man spent a year doing the same thing as part of life-sized human photographer Andrew Whyte's fun 'The Legographer' series.
Being a whimsical series, all of the photos were shot on Whyte's aging iPhone 4S using the 645Pro (and, later, the 645Pro Mark II) app to take the pictures and Snapseed to edit them.
When we caught up with Whyte (a professional long exposure photographer by trade) over e-mail, he told us why exactly he chose to use his iPhone rather than his expensive Nikon gear:
For my first attempt at a 365 series I knew it had to be portable and spontaneous — my commercial photography, long exposures at night, is rarely either of these. My mobile phone fitted this agenda perfectly and had the added bonus of having a much closer minimum focusing distance than any of my Nikon gear. That's how I get up close to the figure and force the perspective to make him look life-sized.
The phone did pose some challenges; low light performance, for example, was a real hurdle. Still, thanks to 645Pro, he was able to generate 20Mb TIF files each time he took a photo, and the print quality that resulted really "blew him away."
In addition to the low-light challenges, another major hurdle Whyte had to deal with was the weather. Towards the end of his year-long project, the weather began making it difficult to photograph the little 2″ high, 1oz bit of plastic without some double-sided tape or, at times, more drastic measures.
Challenges aside though, Whyte says he would definitely do it again. "For a year, the minifigure was like my own model whom I could pose and compose — something that's seldom needed in my real work," he tells us. "So despite occasional frustrations, honestly I had so much fun and I continued to learn a lot about photography throughout."
Here's a selection of photos from the series: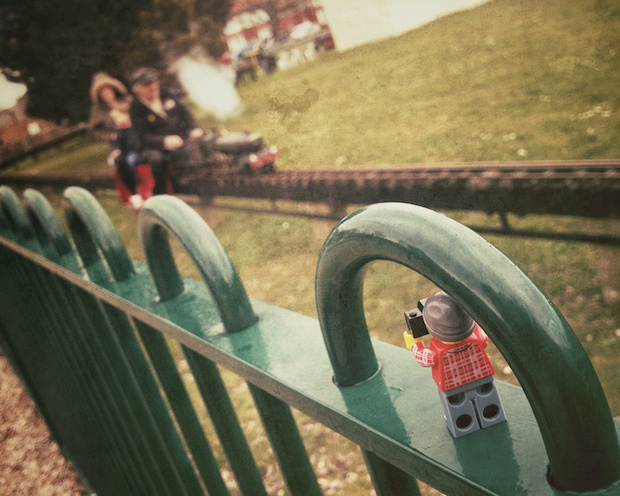 With the fun little series being so popular, Whyte has received a lot of questions from people wanting to do similar projects. Here are a few 'top tips' he shared with us for those of you who would like to try your hand at this:
Look for a story: small-scale items work well as you can crop tightly around the scene and pose the figure appropriately. Similarly, grand vistas can also work, with the minifigure acting as a foreground element.
Get down low: to manipulate scale you need to get right up to the minifigure, sometimes as little as 3 or 4 inches away. I almost always worked at ground level but a low surface can work if you get the positioning right and take time to line up the horizon.
Manage your expectations: if you're using a smartphone there are limitations. Low light capability is usually one downside but a torch/flashlight can often add illumination to the scene. When it's raining, look for reflections in puddles. If it's contrasty lighting, try a silhouette to overcome issues with dynamic range.
Double check your focus: sharpness on the figure is high up the list of things that make these shots work. Don't dismantle your scene 'til you've checked your pic.
Be 'Appy: 645Pro (for iOS) allowed me to focus in one area and meter from another, along with giving me high quality input files for processing. Snapseed (and recently Faded) were two apps I've used to tune my photos — you pretty quickly get a feel for latitude, even when viewing only through the phone's screen.
To see more examples from the series, or if you'd like to check out some of Whyte's commercial long exposure work, head over to either the Legography webpage or follow him on his website and Twitter by following the corresponding links.
(via ABC News)