Photographer Tackled by 3 Security Guards at the Smithsonian While Covering Strike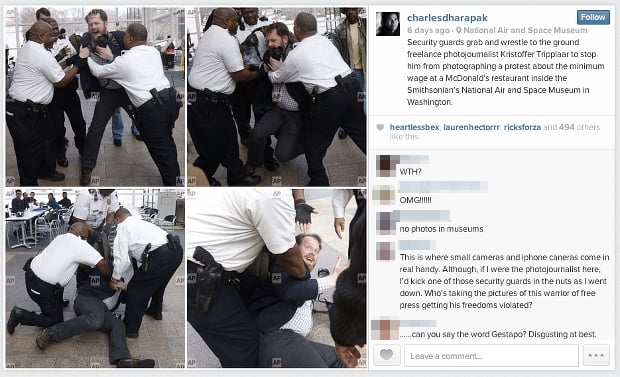 While cover a fast food workers strike at the National Air and Space Museum last week, photographer Kristoffer Tripplaar was forcefully brought down by no less than three security guards when he accidentally bumped into one of them in an attempt to protect his equipment.
The whole altercation happened last Thursday while Tripplaar was photographing a confrontation between a security guard and another photographer. According to Tripplaar, the security guard pushed the other photojournalist towards him and, in an attempt to protect his gear, he leaned forward to take the collision with his body and accidentally bumped into a security guard.
That's when two other guards rushed over and, claiming that he had attacked the first officer, tackled him to the ground. Here's an Instagram video that captured some of the altercation:
As you can see from the end of the video, the supervisor of the security guards actually came over, told the others to stop what they were doing, and even helped Tripplaar back to his feet.
Still, the ordeal didn't end there, because when Tripplaar approached the supervisor after the protest to ask for the other guards' names (one of which was standing right there), he was shoved out of the museum to a chorus of "it's time for you to go."
Tripplaar has since filed an official complaint with the Smithsonian and this story, which we doubt the Smithsonian would like to be publicized widely, has been covered by everyone from the NPPA, to Photography is Not a Crime, to Imaging Resource and many more.
Fortunately for Tripplaar, this likely means that his complaint will be taken seriously, especially since there were so many photographers there capturing visual evidence that corroborates his story.
(via NPPA via Imaging Resource)