Care to Buy an Antique 400mm Soviet Lens on eBay… for $488K?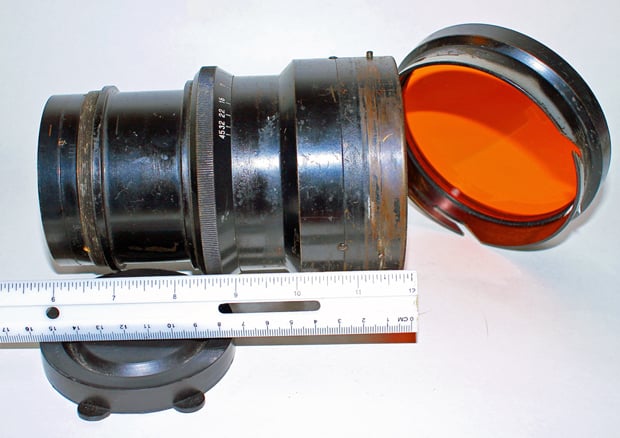 Next time a spouse or friend razzes you for spending too much on camera gear, try pointing out all the cool, expensive stuff you didn't buy. Like the antique, no-name, large-format lens currently up for sale on eBay for close to half a million bucks.

The
listing
for "UNIQUE ANTIQUE 400mm AERIAL SPACE Lens LARGE FORMAT SPACE CRAFT AIR FORCE LENS," buy-it-now price $488,000, is confusing on a number of counts:
Who actually made the thing? The listing says it's "related" to a Zeiss World War II Luftwaffe lens, updated to use "coated precious glass."
What kind of camera could one use it on? The seller merely notes the lens has a "rear-fitting screw" of 82 or 84mm and suggests film stock of 18×24 centimeters, considerably larger than 4×5-inch film.
Why is Sotheby's mentioned several times in the ad when the seller appears to be an independent dealer with no connection to the auction house?
Why does it take more than a month to ship this baby?
And most puzzling, if this is such a unique, historical item, why does the seller have the exact same lens listed in another auction for a buy-it-now price of $40,000? (There: PetaPixel just saved you $448,000… You're welcome.)
On the plus side, the bokeh looks pretty sweet, and shipping (U.S. only) is included, as is "intellectual support and consulting," including a custom-written (hopefully not in the same all-caps, verb-challenged style of the listing) article explaining the historical, cultural and political significance of the item.
Bargain hunters, meanwhile, may want to check out one of the seller's other auctions: a 426mm f/26 ultra-wide, ultra-large format lens selling for $300,000 or $200,000, depending on the auction.