Then-and-Now Images of NYC Created by Blending in Vintage Crime Scene Photos
Then-and-now photos are always fascinating to see. Historical scenes come to life when blended into or placed side-by-side with modern-day photographs of cities we all know very well. Be it Paris, New York or San Francisco, most of the best-known cities have gotten the then-and-now treatment to great effect by many a photographer.
The most recent Then and Now series we've run across, however, isn't just meant to show how the scenery has changed. When photographer and historian Marc A. Hermann created the images, he purposely used only vintage (Note: and sometimes gruesome) crime scene photos to fill in the "then" part.
All of the old photos were pulled from the New York Daily News' archive, which contains nearly a century of NYC's photographic history. Through them, people who only know the more "sanitized" New York City of today are offered a glimpse into the Big Apple's seedy past.
"I have always been a fan of the work of our predecessors in the New York City photojournalism community," said Hermann when he spoke with Co.Create about the series. "And it didn't take long for me to think that something similar could be done with the lesser-known 'war zones' of our streets during the days of Murder, Inc."
At the top we have a photo taken on March 19, 1942, which shows Edna Egbert out on the ledge of her apartment on 497 Dean St. in Brooklyn, fighting with police. Below you'll find the rest of the series, complete with captions to fill in the context: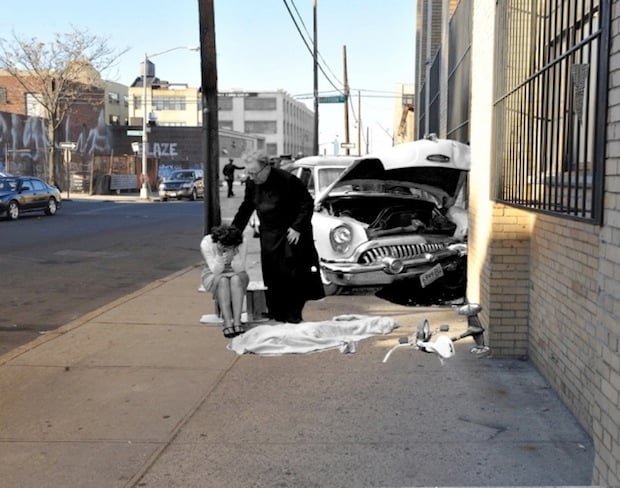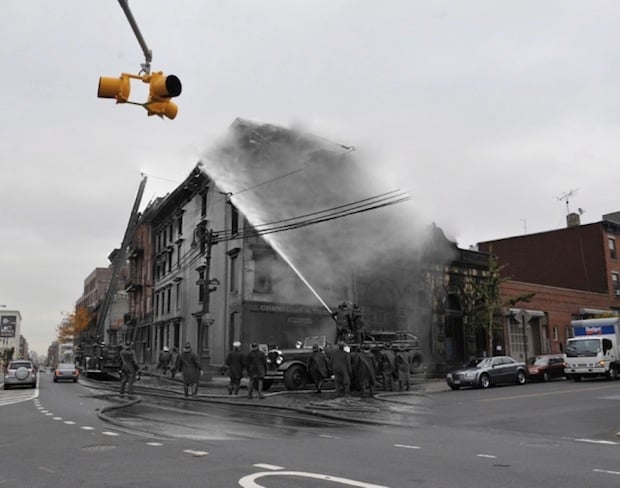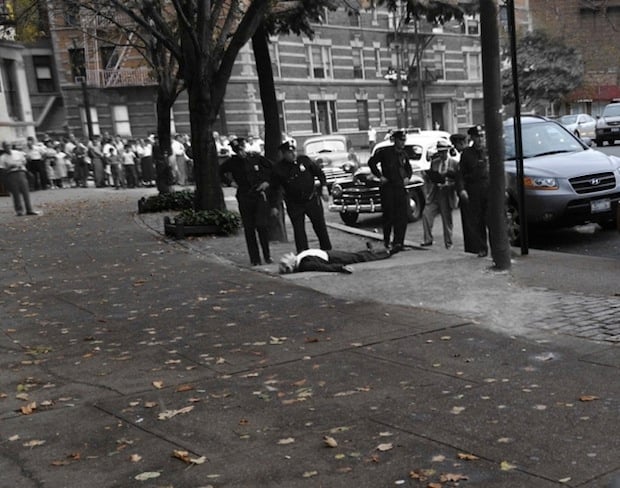 The photos give us a chance to see how much the city has remained the same in some ways, and changed (hopefully for the better) in others. Thankfully, crime isn't nearly as prevalent now as it was when the vintage photos mixed in here were taken, but many of the buildings where the crimes, fires and car wrecks took place remain largely the same.
You can see more from Hermann by heading over to his website here. You can also dig through some of the old photos yourself by paying the New York Daily News' archive a visit. And if you liked these photos, don't forget to browse through some of the other then-and-now series we've featured in the past.
(via The New York Daily News via Gizmodo)
---
Image credits: Images by Marc Hermann and used with permission