Mesmerizing Macro Photos of Ink Mixing With Oil and Soap
Visual artist Ruslan Khasanov was cooking a little while back when he noticed some interesting interactions between the oil and soy sauce he was using. The little black beads of soy sauce forming at the bottom of the container inspired him, and so he decided to perform a little visual experiment by substituting the soy sauce for ink, and adding in a little soap for good measure.
Thus was born his series Pacific Light, a series of macro photos, GIFs and a video that show what happens when you mix those three ingredients together.
As you can see, the effect is spellbinding. You can't help but stare as the blue, yellow, magenta and white ink he used mix together into tiny beads full of color. As blobs of ink move through, and depending on the concentration of each 'ingredient,' the frame morphs from fields of colored beads to vivid splotches of color.
Here are the photos Khasanov captured for the project:
And in case the photos aren't quite enough, here are a few GIFs as well: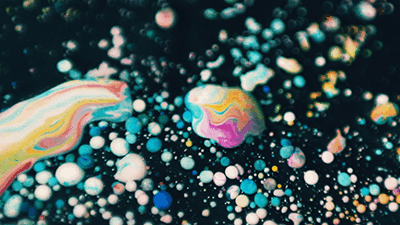 The series reminds us a bit of the microscopic time-lapse photographer Linden Gledhill and art director Craig Ward put together for musician Jon Hopkins.
To see more photos and GIFs created as part of Pacific Light, head over to Khasanov's Bēhance page. And if you'd like to check out the rest of his portfolio, pay is website a visit by clicking here.
(via SO BAD SO GOOD)
---
Image credits: Photographs by Ruslan Khasanov