Cassini Snaps New Photographs Showing Earth Next to Saturn's Rings
Were you smiling a lot Friday afternoon? Hope so, because that's when you and your 7 billion planetary neighbors got a rare portrait session from the Cassini spacecraft. Orbiting above Saturn almost a billion miles away, the craft turned its camera towards to Earth to capture some spectacular images of our planet foregrounded by Saturn's rings.
It was the first time in nine years that Cassini has been in orbit and taking scheduled photos of our planet, prompting NASA and friends to promote a "The Day That the Earth Smiled" event via social media.


The end object will be to combine the images into a detailed photo mosaic, being crunched by NASA computers as you read this. "Raw" unprocessed images were available via NASA within a few hours, however, and astronomy buffs quickly converted a number of them into striking color shots.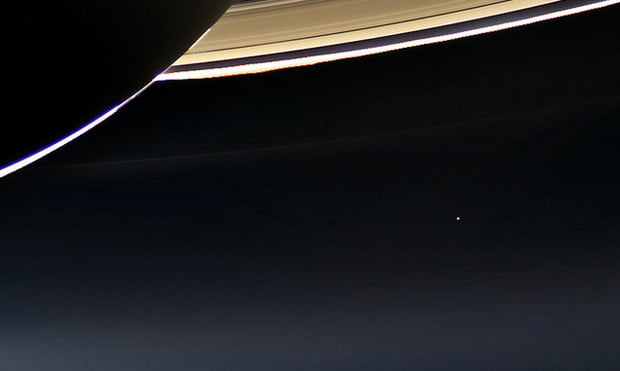 Here's an amazing closer photo showing what Earth and the Moon look like from 898.4 million miles away:
NASA engineers declared themselves quite pleased with the early results, promising spectacular views once the composite is ready. "Prepare to be awestruck!, tweeted Carolyn Porco, imaging team leader for the Cassini Imaging Central Laboratory for Operations.
NASA has a fine tutorial about using raw images (favorite new technical; term: "dust donuts") for anyone who wants to test their post-processing skills.
(via Fox News)
---
Image credits: "Saturn & Earth," "Saturn & Earth 2" and "Earth and Moon"by Val Klavans/NASA, Raw images and "Cassini and Saturn" by NASA