Detroit Newspaper Photographer Arrested While Covering Police Action
Detroit police are investigating an incident last week in which a photographer for the Detroit Free Press was arrested and had her camera seized while covering a police action.

Photographer Mandi Wright and a
DFP
reporter were traveling to an assignment Thursday when they came upon an arrest scene and started covering it, with Wright capturing video on her newspaper-issued iPhone. Video of the event shows Wright filming the pat-down of the suspect when a man, wearing no uniform or identification, approaches her without identifying himself and orders her to "back up." He then obstructs the iPhone lens and orders "Turn it off."
Wright identifies herself a newspaper photographer (she was also wearing a press badge), to which the man replies "I don't care who you are." The still-unidentified officer then apparently grabs for the phone while Wright asks "Are you touching me?" before the video cuts out.
Wright says that the man, who she thought was an angry bystander, then wrenched the phone out of her hands, after which she tussled with him to get it back. At that point, uniformed officers jumped in, told her she was interfering with an arrest and handcuffed her.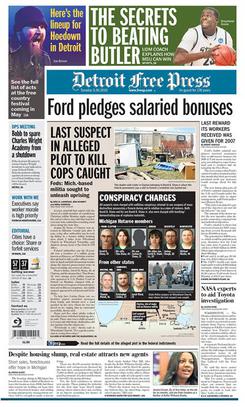 "I was just surprised at how quickly it escalated," reporter Kathleen Gray told the Free Press. "There was no effort to try to figure out who we were or what we were doing. It was just immediately going for the phone."
Wright was in custody for more than six hours, part of which she spent in an interrogation room with the suspect, before she was released without charges. Police also returned her phone, but with the SIM card missing. The video she shot was still on the camera's internal memory.
No charges had been filed against Wright as of Monday. Detroit Police Chief James Craig confirmed Monday that an internal affairs investigation of the incident is ongoing.  Deputy Chief James Tolbert said separately that the department would issue a directive reminding officers that they cannot prevent anyone from recording them in public.
Free Press Editor Paul Anger told the newspaper that the incident was troubling in several regards. "First, our photographer was doing what any journalist — or any citizen — has a right to do in a public place…All she knew was that someone had grabbed her and her phone. We understand the difficult job that police officers do, and we understand how tensions can rise. Yet some of the police actions all through this incident need scrutiny — not the actions of our photographer."
(via Detroit Free Press)