Nokia Announces the Lumia 1020, a Very Camera-Like 41MP Smartphone
After months of rumors about an "EOS camera," Nokia has finally announced its new Lumia 1020 photo-centric smartphone, a device that fuses serious camera functionality with the concept of a phone.


On the inside of the Windows Phone 8 device is a powerful second-gen 41-megapixel sensor (we're assuming the 808 PureView sensor was the first gen). It's the largest backside-illuminated sensor to be introduced on a smartphone.
There are 32 gigs of onboard storage, which is helpful given the size of the photos that'll be popping out of the beastly sensor. Want to share photos quickly and easily? The phone automatically generates share-friendly 5-megapixel versions of your photos that can be sent to friends and family without killing your data limits.
Look at the front of the camera, and you'll find a 6-lens ZEISS lens with second-gen optical image stabilization. There's also a manual shutter and a large xenon flash that can illuminate scenes much better than the dinky flashes found on most smartphones these days.
On the back of the camera is a 4.5-inch HD display that's covered with durable Gorilla Glass and is sensitive to touch even to fingernails and gloves.
The phone can also do video: it shoots 1080p HD video at 30 frames per second, and can do 4x zoom with no loss in quality.
Nokia is releasing a new companion Pro Camera app for putting powerful features at your fingertips. Using the app, you'll be able to manually adjust various camera settings such as flash, focus, ISO, shutter speed, white balance, and exposure.
Here are some sample photographs shot using the Lumia 1020:
Want a better grip on the phone that feels more like you're holding a dedicated camera? There's a Nokia Camera Grip accessory that can provide that. It's an official case that snaps onto the phone, mimicking the look and feel of a serious compact camera. The case also provides extra battery power, a dedicated shutter button, and a universal tripod mount.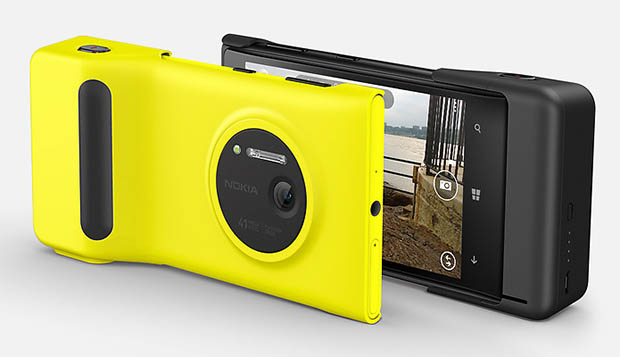 You can pick up a Nokia Lumia 1020 in black, white, or yellow starting on July 26, 2013 through AT&T. It'll be priced at $300 when purchased with a two-year agreement.