Company Upcycles Wasted Canvas From Photo Printing to Raise Money for Charity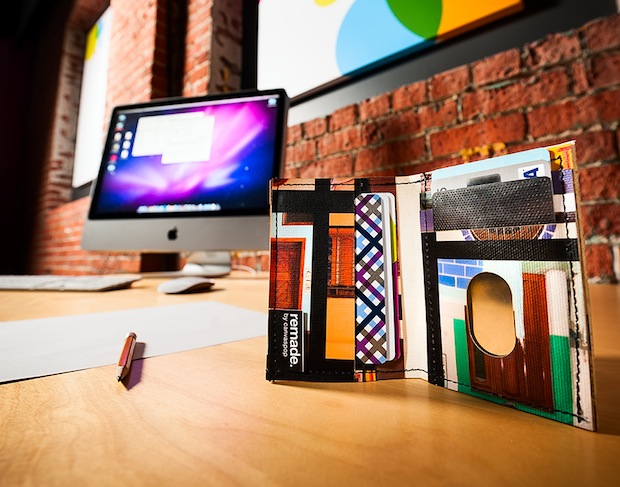 When the company CanvasPop puts a customer's photo onto, well, canvas, they often wind up with a bunch of scraps that they have to throw away. Not only are there excess pieces that have been cut off during the wrapping process, but sometimes entire prints don't make it through quality assurance and have to be tossed.
In a fit of philanthropic brilliance, the company realized that this is a waste and decided to put the excess canvas to some positive use. That's how they came up with the Remade Wallet: cool looking canvas wallets that CanvasPop now makes and sells, donating the profits to charity.
Here's a quick intro to the project:
The project is a great example of 'upcycling:' taking old or useless materials and creating something new and useful from them. The wallets come in one or two panel configurations, and since they're made from scrap canvas, no two are exactly the same.
Interested buyers have a choice between $24 "Featured Art" wallets, which are put together using photos from some of their most common customers, or $19 "Surprise Me" wallets. Whichever you pick, $5 (the profits once they've recouped production costs) will go straight to charity:water.
Here's a look at a few of the wallets they've made thus far:
Since they're using customer photos to create the Remade wallets, CanvasPop has made sure that they don't step on anybody's toes. Before an image is used to create a wallet, the photographer is contacted for permission. In addition, a royalty from each wallet sale will go to the artist who donated the image. You can even get in touch with them to maybe donate your images specifically for use on a Remade Wallet.
To find out more about the project or maybe grab a Remade wallet for yourself, head over to the company's Learn More page or visit the online store here.
(via TwoEight)