Photographer Shows a Journey Through Israel on Suitcases
For his project "Memory Suitcases," Israeli photographer Yuval Yairi used his suitcases as a "canvas" for displaying his photographs. Each of the images shows a photograph of a scene in Israel displayed on the surface of old luggage.
The series is an investigation into the topic of memory, and the relationship between memory and imagination.
Yairi shot the images by driving around Israel in his old Volkswagen van. He shot two types of photographs along the way: images of his suitcases placed on the ground, and photographs of "stories left lying by the side of the road." Afterward, he combined the two photographs by overlaying the landscapes onto the suitcases.
Yairi tells us,
Some of the images 'imprinted' on the suitcases, such as that of the tree house, echo childhood memories of Israel in the early 60s, memories common to a whole generation born before the Six Day War. In a related series, Memory Vans, shared memories – some of them resonating for people of many cultures – are also evoked by objects inside the suitcases Several of the suitcase images are of abandoned houses once belonging to Palestinian Arabs who escaped or were evacuated during the 1948 and 1967 wars.

Some of the houses have remained untouched and decaying ever since; others have been inhabited by Jews who immigrated to Israel following the Second World War; others still are being converted into exclusive modern homes. All bear testimony to a far-from-remote history that we Israelis may try to forget, ignore or erase. Meanwhile, many Palestinians keep the keys to these houses, just as mementos, or in the hope of returning.
The suitcase was chosen due to the fact that it's a "potent and familiar" object associated with migration, and that it's "an icon of wandering and displacement."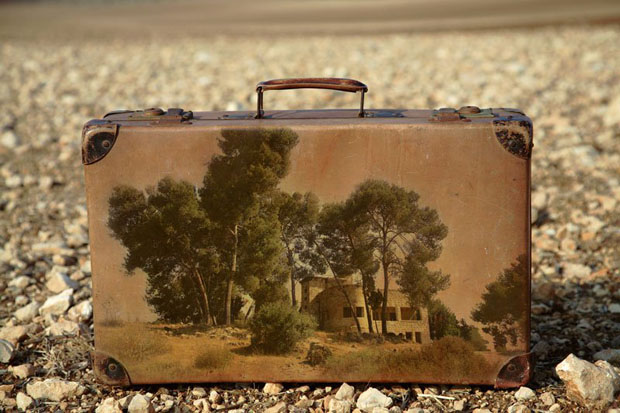 You can find the entire series of images over on Yairi's website.
---
Image credits: Photographs by Yuval Yairi and used with permission