Photos Depicting the Slow Decay of a City Made of Bread
In 2009, Swedish artist Johanna Mårtensson read an article that described how well the Earth would do if humans simply ceased to exist. Within a few centuries, most buildings would be collapsed or collapsing as animals, plants and bacteria re-established the social order in cities once ruled by the curious primate Homo sapien.
The article got her creative juices flowing, and ultimately led to a photo installation called "Decor:" a city built by Mårtensson entirely out of bread, and left to decompose as she took daily photos over the course of 6 months.
The resulting photos show what would happen to this perishable city when left to its own devices, and won Mårtensson several awards, the most recent of which was the A' Design Award and Competition prize in the Arts, Crafts and Ready-Made Design Category.
Obviously, the prevalence of perishable buildings outside of Hansel & Gretel is rare, and so we probably don't have to worry too much about the coming mold apocalypse. Mårtensson simply wanted to give a unique presentation of "what might happen when the show is over:"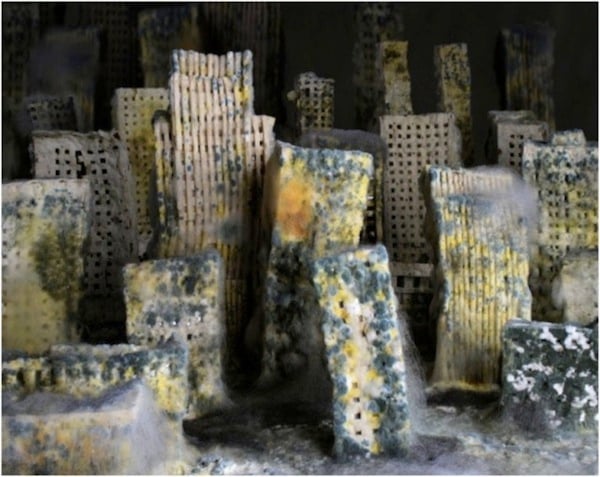 To learn more about the project and Mårtensson's inspiration behind it, head over to the project's page on the A' Design Award and Competition website. As for this bread city, it's long decayed into moldy oblivion with little hope that she'll build another. As she explains in the project's description, "The hardest bit of the realization of the piece was the smell."
(via Laughing Squid)
---
Image credits: Photographs by Johanna Mårtensson.