Mount July Launches Its Color-Splashed Lens Filters, Now Taking Preorders
Want to play around with lens filters that add splashes of color to your photographs? Stanford design students Olivia Vagelos and Martin Bush want to help you out. They've designed a new line of color-splashed lens filters that can transform "the feel" of your photos.

As we reported when we broke the news on the filters last month, the filters are multi-colored radially graduated filters that are made out of multi-coated precision optical glass. The housings are created out of lightweight aluminum.
They'll be available for interchangeable lenses that use standard 58mm threads. An optional step-up ring will also make the filters compatible with smaller 52mm lenses.
Once the filters are attached to the front of your lens, the resulting photographs will be saturated with new colors and take on a new look. The filters can even be stacked and twisted to create new looks that are unique to individual shots.
Since they're filters, the color can be added to video as well as analog photographs.
There are three different filters, each with their own flavor: Stinson, Sedona, and Sayulita: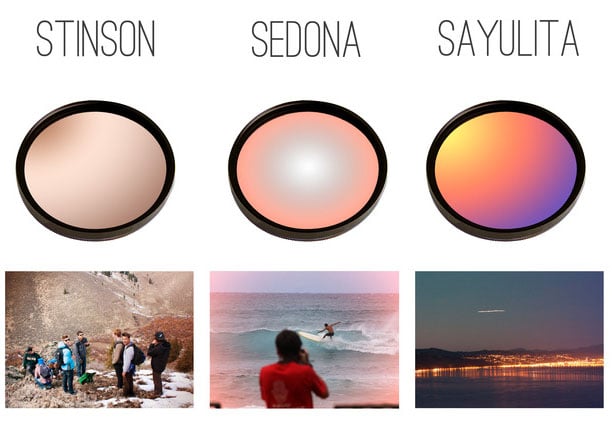 Here are some sample photographs captured using the filters:
Here's a video in which the two founders introduce their new product:
The newly formed company is called Mount July. Vagelos and Bush are taking preorders to raise funds for the first batch of production filters. Contribute $30 or $35 to the project over on Kickstarter, and you'll be signed up to receive one of the first Mount July filters to hit the market.
You can also follow along with the company on its official Facebook page.