Starry Street Photos of Chicago Captured Using an Off-Camera Flash
Japanese photographer Satoki Nagata moved to Chicago in 1992 to document the city and its people. His background is in neuroscience (he has a PhD in the field), but his passion is creating intimate documentary photography projects in his city.
During a recent winter, Nagata decided to try his hand at using a flash for street photography at night. Instead of mounting his flash to his camera, however, he decided to use it off camera. Combined with the light rain and falling snow, the flash turned many of his photographs into abstract and surreal images that almost look as though he overlaid photographs of stars.

The resulting series is titled "Lights in Chicago." Nagata tells us,
In my most recent work I see the light and shadow produced by flash is the pure form of reality of people living in the city. Inside the bright light line, the significance of existence of the person appears. The image is abstract and surrealistic but also full of life and personality. Transparent layerings are created by flash with slow shutter speed and no reflection is involved in these images.
He stumbled upon the "look" seen in these images by placing his flash behind his subjects and using a slower shutter speed. Although the photos may look like double exposures, reflections, or Photoshop jobs, they're actually ordinary single exposures.
"I like the simplicity of this technique," Nagata says.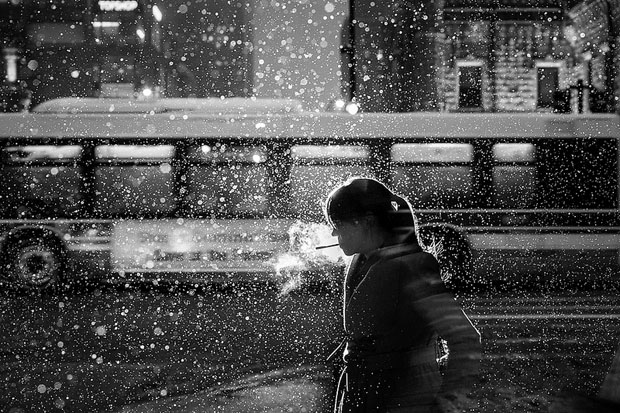 You can find more of Nagata's work over onhis website.
Lights in Chicago by Satoki Nagata (via Colossal)
---
Image credits: Photographs by Satoki Nagata and used with permission