In His Iconic Portrait, Winston Churchill is Scowling Over a Lost Cigar
This is a photo of Winston Churchill by Yousuf Karsh, captured in 1941 during the early years of World War II. It is said to be one of the most widely reproduced photos of all time.
It's a legendary portrait of a legendary man by a legendary photographer. There's also a legendary story about how it was shot.

Karsh, who is widely regarded as one of the best portrait photographers of all time, had been waiting to photograph Churchill after he spoke before the Canadian Parliament. After the speech, Church was brought into the Speaker's Chamber, where Karsh had set up his camera and lighting equipment the night before.
In his book book "Faces of Our Time," Karsh recounts how Churchill's mood was sour from the moment he walked through the door:
He was in no mood for portraiture and two minutes were all that he would allow me as he passed from the House of Commons chamber to an anteroom. Two niggardly minutes in which I must try to put on film a man who had already written or inspired a library of books, baffled all his biographers, filled the world with his fame, and me, on this occasion, with dread.
Church had not been told that he would be photographed on this occasion. He relented, but at the same time pulled out a cigar, lit it, and began puffing away.
Here's what happened next, in Karsh's words:
Churchill's cigar was ever present. I held out an ashtray, but he would not dispose of it. I went back to my camera and made sure that everything was all right technically. I waited; he continued to chomp vigorously at his cigar. I waited. Then I stepped toward him and, without premeditation, but ever so respectfully, I said, "Forgive me, sir," and plucked the cigar out of his mouth. By the time I got back to my camera, he looked so belligerent he could have devoured me. It was at that instant that I took the photograph.
By plucking the cigar from Churchill's mouth without permission, Karsh was able to "make" the photo by eliciting a fantastic pose and facial expression from the great leader.
The photograph is celebrated for capturing the defiance that Churchill and Britain were feeling at the time. The leader would later say to the photographer, "You can even make a roaring lion stand still to be photographed." Thus, Karsh titled the photo, The Roaring Lion.
Although the photo above is the image from the shoot that would go on to become world famous, Karsh's personal favorite portrait from the shoot is one captured later on, which shows Churchill with a lighter mood and a smile on his face: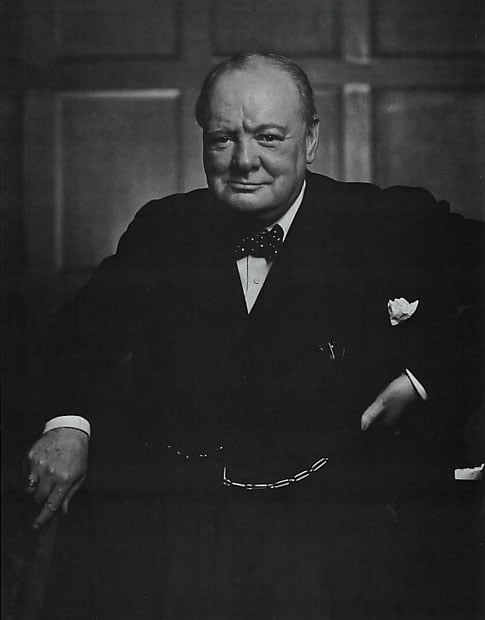 ---
Image credit: Photographs of Churchill by Yousuf Karsh/The Estate of Yousuf Karsh