Travel Writer Booted Off a United Airlines Flight for Taking a Picture of His Seat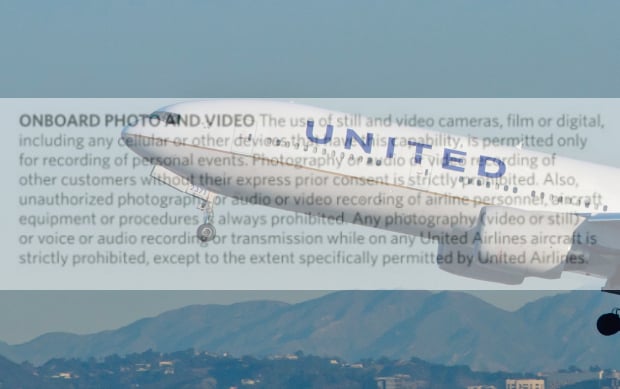 Matthew Klint is an avid travel writer and loyal United Airlines flyer who spends almost as much time in the air as he does on the ground. Last year alone he traveled more than 200,000 miles, and his contributions can be found in the Washington Times, USA Today, BBC, Toronto Star, and his Live and Let's Fly blog.
But last week, Klint recorded an airline first for him on what was supposed to be a flight from Newark to Istanbul: he was kicked off of the flight for taking a photo of the seat in front of him, and then explaining why it was he had taken the picture.
The story goes something like this. Sitting in a 767-300 and having just been upgraded to business class, Klint pulled out his iPhone and snapped the following picture of the display on the seat in front of him.
He was immediately approached by a flight attendant, told he was not allowed to take pictures, and pointed towards United's "Onboard Photo and Video" guidelines in Hemisphere magazine:
He quickly and without argument put his phone away and complied with instructions as the flight attendant rushed off to reprimand another flyer that was doing the same thing. But the whole interaction had bothered him, so he got her attention in order to explain his side and clear up any misunderstandings:
Naturally, the FA's warning bothered me and I felt the need to explain myself. I signaled for her to come back and asked her to hang my coat. I then said this verbatim—

'I want you to understand why I was taking pictures. I hope you didn't think I was a terrorist. Here is my business card [offering her one]. I write about United Airlines on an almost-daily basis and the folks at United in Chicago are even aware of my blog.'

[She] refused to take my business card saying, 'No, that's okay,' then saying, 'I did not know that' after I explained my reason for taking pictures. I again emphasize, I took no more pictures.
That's when things got ugly. A few minutes later, he was asked by a Global Services rep to disembark and find another flight to Istanbul at the pilot's behest. After several minutes of confusion and a less-than-polite interaction with the pilot, during which Klint realized that the flight attendant had lied to the pilot, he got off the plane and found another connecting flight.
The whole altercation has led to a lengthy write-up on his well-trafficked blog, which will inevitably translate into some bad press for United — and all because he took a photo of the seat in front of him.
For all of the details — including the full dialogue between Klint, the pilot and the GS rep — you can read the entire story over on Klint's blog.
Thrown Off a United Airlines Flight for Taking Pictures! [Live and Let's Fly]
---
Image credits: Photo illustration based on United Airlines – N771UA by InSapphoWeTrust and Off Limits Picture by Matthew Klint