Your DSLR is a "Rainforest of Bacteria," But It's Probably Okay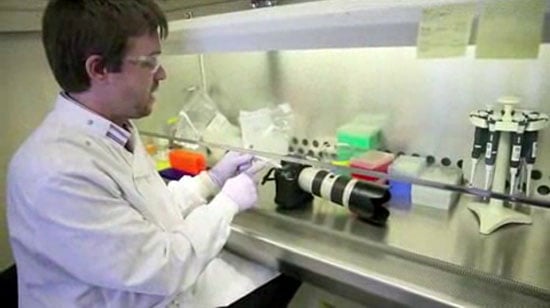 Did you know that 90% of the cells in (or on) the human body are bacteria and other microorganisms? Have you ever thought about how many bacteria live on your DSLR camera? Chicago Tribute staff photographer Alex Garcia recently dove into this second question while visiting the Argonne National Laboratory outside Chicago.

He met with environmental microbiologist Jack Gilbert, who's working on a project that involves taking and analyzing microbe samples of ordinary things used in everyday life (e.g. phones and shoes).
Gilbert decided to take a sample from Garcia's Canon 1D Mark IV DSLR. When Garcia received the results, he says he was treated to "an alphabet soup of taxonomic units that required more analysis than you would want to read on a photography blog."
Turns out the camera had around twenty different species of bacteria on its surface, with "Mycoplasma" being the most common genus.
Although there may be bad bacteria on your camera and in your body, your body is generally balanced and strong enough to keep everything under control. In certain situations, however, they might make you very sick. Garcia, who lost his father-in-law to a hospital infection, recommends that photographers be careful as they take their cameras from assignment to assignment:
Wash your hands during this cold and flu season, and watch what you handle on assignment – especially if you've just undergone a round of antibiotics or have a compromised immune system.
To learn more about this issue, check out Garcia's blog post over at the Chicago Tribune, which features a video interview in which Gilbert discuss cameras, bacteria, and the human body.
"Your Camera is a Rainforest of Bacteria" [Chicago Tribune]
---
Image credit: Photograph by Alex Garcia/Chicago Tribune