What a DSLR's CMOS Sensor Looks Like Under a Microscope
Jack over at the astrophotography blog The Landingfield has published a series of photographs showing what a digital camera's CMOS sensor looks like when viewed through a microscope. The sensor (seen above) was taken from a broken Nikon D2H — a DSLR from back in the early 2000s.

There are a number of challenges when it comes to photographing a sensor under a microscope. Jack writes,
Photographing an opaque sample compared to biological slice is extremely difficult, since ordinary trans-illumination will not work. An epi-illumination, de facto illuminating through the objective, should be used instead. Basically a half mirror is in place of the optical path to direct light towards the objective, then back in to the eyepiece and camera. Epi-fluorescence will use a dichroic mirror and a pair of filters.
Let's begin zooming in!
Here's what the sensor above looks like when viewed in color and at 10x magnification: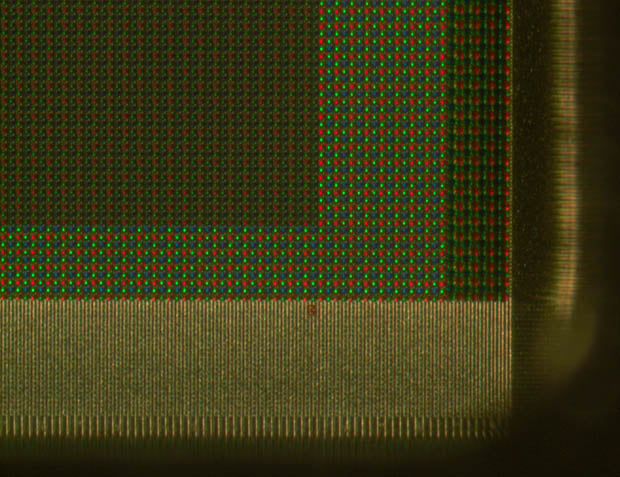 Now we go into the world of monochrome images as we magnify the sensor to 40x. Here's a close look at the sensor's effective pixel array (the bright pixels are green while the darker ones are red and blue):
As we move out toward the side of the sensor, we see what are known as optical black pixels and bare color filter arrays:
Finally, at the very edge, we see the channels through which data travels off the sensor and into the camera:
For a better understanding of what you're seeing in the photos above, here's a 4-minute video we shared a couple of years ago that offers a glimpse into how CMOS sensors work:
If the photographs above piqued your interest, be sure to head over to Jack's full blog post below. There are more photos and a more technical description of what the images show.
Peeping into Pixel – A Micrograph of CMOS Sensor The Landingfieldvia The Digital Picture]
---
Image credits: Photographs by Jack/The Landingfield and used with permission