Adorable Baby Photos from a Fairy Tale-Themed Shoot
Photographer Wendi Riggens has been receiving a good deal of attention in social media channels for her recent photo shoot of a 9-month-old girl, Miss Maddie. It was a fairy tale-themed shoot, with Maddie wearing the outfits of characters from famous Disney movies, including Cinderella, Alice, Wendy, and Snow White. The series is titled, "Once Upon a Time."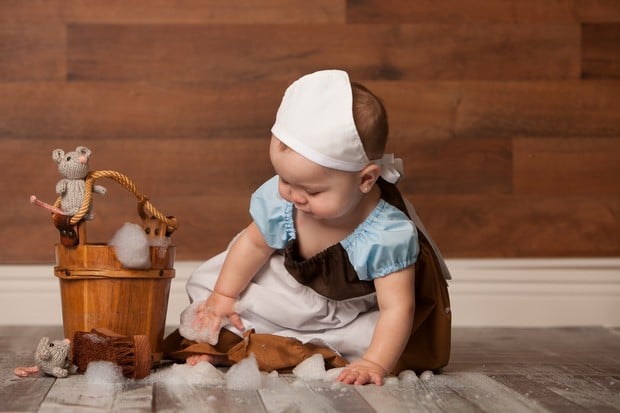 Riggens writes,
I never imagined just how incredibly adorable and amazing the images would turn out! She spent weeks and weeks searching for the perfect pieces for the shoot, and we spent two hours the day before setting up sets and discussing strategy. At 9 months old, most babies don't have an incredibly long attention span, and we knew we would have to work quickly to ensure that Maddie was happy and that we got the shots we wanted.

The day of the session went better than we ever could have planned. Maddie didn't mind the non-stop clothing changes, and seemed entertained by all the sets! She especially loved the "big bad wolf" and soap bubbles! And then, at the very end, she fell asleep, giving us one last shot to wrap up this perfect session, a shot we hadn't even planned on and threw together very last minute!
You can find more of the photos that resulted from this shoot over on Riggens' blog.
---
Image credits: Photographs by Wendi Riggens and used with permission