Silly Portraits of People with Scotch Tape on Their Faces
For the past couple of months, Albuquerque, New Mexico-based photographer Wes Naman has been working on a lighthearted personal project called "Scotch Tape," a series that features bizarre portraits of subjects who have their faces wrapped tightly with strips of Scotch tape.

Naman works with the subjects to distort their faces in various ways (e.g. bending the nose, twisting the lips, stretching the eyebrows), and then uses the tape to freeze those facial features in those positions.
What contributes further to the weird looks is the fact that in some of the shots the subjects are attempting to remove the tape using only their facial muscles.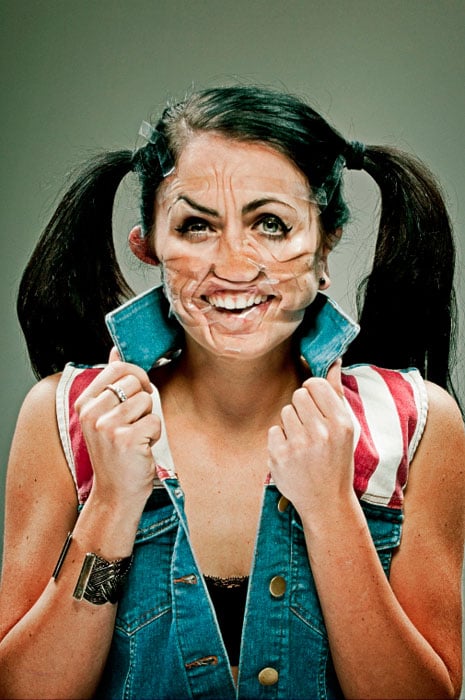 Jakob Schiller of Wired recently paid a visit to Naman's studio during one of his "Scotch Tape" shoots. He has written up a nice article that provides some additional info on how the series came about and how the images are created.
You can find the entire set of Scotch Tape photos so far over on Naman's website, and can follow him on Facebook if you'd like to keep up with future additions to the series.
---
P.S. The series reminds us a lot of photographer Tadao Cern's Blow Job project, which features portraits of people whose faces are being blasted by a leaf blower.
---
Image credits: Photographs by Wes Naman