You Are Not the Only Photographer at a Wedding Anymore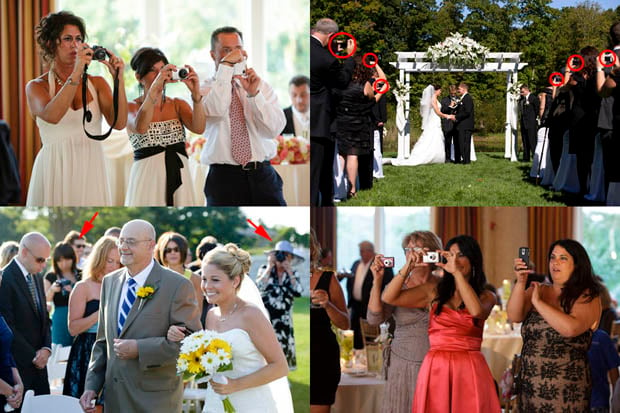 Photographer Richard Esposito has written an interesting article over at Tiffinbox on how weddings are becoming a "too many cooks in the kitchen" kind of environment, where everyone and their mother is a photographer now:
Gone are the days of capturing a sea of guests with genuine emotion on their faces. Now you have to give an elbow to Aunt Clair who's blocking the aisle with her Digital Rebel in hand as the bride makes her grand entrance. I used to love capturing guests emotion during the first dance, parent dance, even the toasts. But now my subjects are a handful of guests with point and shoots held up blocking their faces, or the tops of everyones head because they are looking down at the back of the camera to check the photo they just took. My favorite moment so far was a photo of the bride going down the aisle from behind. Everyone in front of the bride has their cameras up, everyone that the bride has past is still facing the back of the church with the heads down looking at the back of their camera. Very few people stopped to enjoy the moment of a father walking his daughter down the aisle on her wedding day.
His advice for brides-to-be: "If you think it's expensive to hire a professional photographer for one day, the emotional cost of hiring an amateur lasts forever."
The New Wedding Guest [Tiffinbox via PhotoShelter]
---
Image credits: Photographs by Richard Esposito/Tiffinbox