Metz 52 AF-1: The World's First Hot-Shoe Flash with a Touchscreen Interface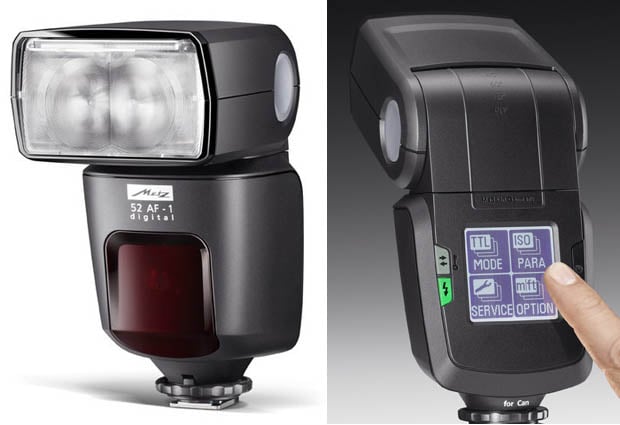 The world of camera gear is getting really into this whole touchscreen thing. Touchscreen interfaces appeared on a bevy of cameras at Photokina this month (especially when paired with Android OS) and even on a new light meter, the Sekonic L-478D. The latest guest to crash the party? The flash.
The new Metz 52 AF-1 is the world's first hot-shoe mounted flash unit to offer a touchscreen interface. Granted, the screen isn't as flashy as the touchscreens found on the devices mentioned above — it won't be winning any beauty contests anytime soon — but it gets the job done.

The back-illuminated control panel intelligently rotates based on the orientation of your flash. Turn it sideways for a portrait photo, and the menus will rotate 90-degrees to ensure that the controls are easy to read and access.
Features include a head that rotates 90-degrees, a guide number of 52, a recycle time of 3.5 seconds at full power, a built-in reflector card, TTL metering, high speed sync, full manual mode, optical slave mode, and a metal hot-shoe foot.
It'll be available in different models depending on the camera you need it for, and is compatible with Canon, Nikon, Pentax, Sony, and Four Thirds. While the release date hasn't been revealed, the unit will cost around $325 when it hits store shelves.
It'll be interesting to see whether or not photographers will give this new flash unit interface a warm reception. While it does make seeing your controls a tad bit easier when shooting at night, you lose the convenience of buttons, switches, and dials.
(via Lighting Rumors via The Phoblographer)