Funny Photos of the 'World's Best Father' with His Adorable Daughter
For the past year, Washington, D.C.-based photographer Dave Engledow has been shooting a humorous series of photographs titled World's Best Father. With help from his wife Jen, he comes up with all kinds of random (and creative) photo shoot ideas to do with his young daughter Alice Bee. The photographs generally portray him as a distracted, incompetent father who lacks basic life skills and who lets his daughter get into all kinds of mischief. Thankfully, the photos aren't candid snapshots of what his life is actually like.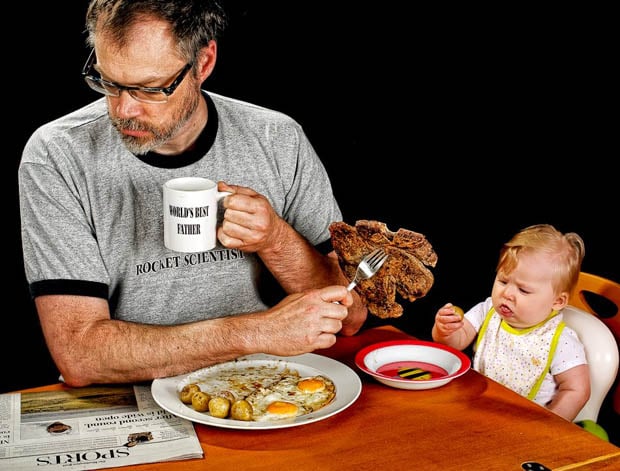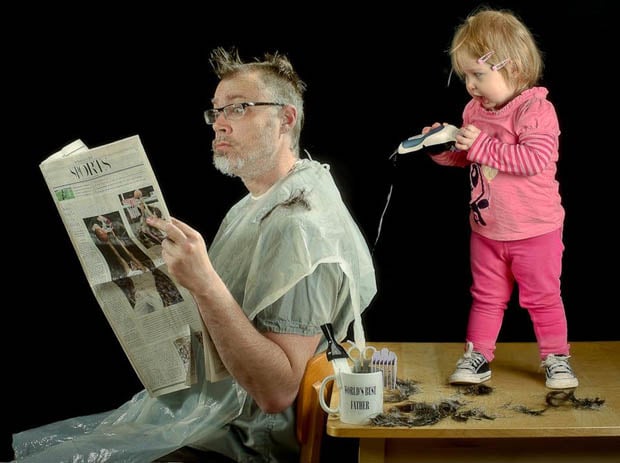 Look closely, and you'll notice that Engledow's beloved "World's Best Father" mug makes a cameo within each image.
Engledow writes,
The first World's Best Father image I shot was initially intended as a one-off. I wanted to capture the dazed, sleep-deprived obliviousness of the new father, while at the same time gently poking fun at myself and new fathers everywhere. I knew I wanted to portray the new father absent-mindedly using the baby's bottle of milk for his own coffee while holding the baby like a football. Right before staging the shot, inspiration hit and I decided that the shot might be stronger if the coffee mug said something like "father of the year" or some similar superlative so I purchased the mug that has since made an appearance in all 56 (and counting) images in this photo series.

After receiving a lot of positive feedback on the first World's Best Father image, I decided (four months later) to shoot another image featuring the clueless dad, the mug, and the baby in an obviously unsafe situation […]

The character I portray in this series is intended to be a parody of the father I hope I never become–distracted, self-absorbed, neglectful, clueless, or even occasionally overbearing.

I've always used humor as a way to deal with my personal fears and neuroses, and in many way these images are often an attempt to do just that–to illustrate humorously the fears that I and, as I've learned, many other new fathers have about fatherhood.
You can check out the rest of the project by visiting its Facebook album here. He's also planning to create a 2013 calendar featuring these photos, and has already overshot his fundraising goal on Kickstarter. You can contribute there if you'd like to preorder a calendar.
World's Best Father by Dave Engledow (via Laughing Squid)
---
P.S. If you liked these photos, be sure to check out photographer Jason Lee's creative photos of his two daughters.
---
Image credits: Photographs by Dave Engledow and used with permission