So You Are Interested in Becoming a Photographer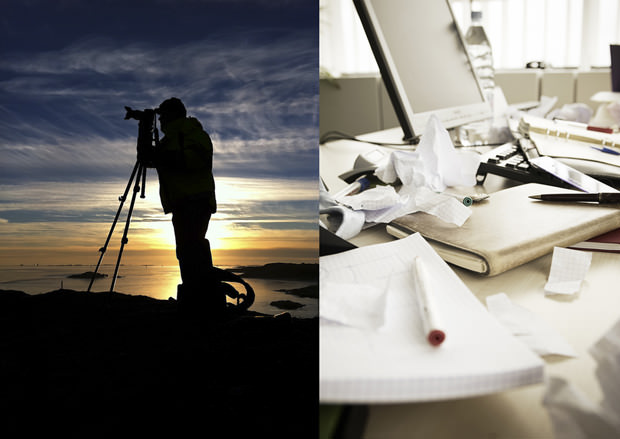 I try to stay involved as much as I can with students studying photography at different institutions in the area. Every year I go back to RIT and do a lecture on the business of photography and I feel it's important that I do so.
Recently I got an email from a young photographer asking me about the career of being a still life/food photographer.

Hi Steve,

About photography as a career, I've heard different points of view. I've been told it's a dying field since it's easier now for people to take nice shots on their own with a good camera, is this what you've been finding? Also, I'm fairly interested in food photography, do you know how magazines, calendars, food packaging labels, etc. go about hiring photographers (ie. do they look for special qualifications)? Finally, does photography take up a large amount of your time?

Thanks,
Student X
Hi Student X,
You are correct about the fact that photography is much more accessible to everyone these days. Being able to afford a decent camera is such a tiny part of what it is to be a commercial photographer. That being said, taking pictures is also not as big a part of the job as you may think. The realities of being a commercial photographer is that you are in fact a small business owner who sells the service of you taking pictures. So, most of your time is devoted to the business side of things. Bookkeeping, meetings, marketing, blogging, editing, networking, maintenance, Organization, and so much more.
What you need to decide, is if you really want to be a commercial photographer, or if you just like taking pictures. These are two very different things entirely and it's hard for many people to separate these two things. The Photographer from the Commercial photography business owner. You need to love the business side of things and the challenges that come with that.
Magazines, Food Packaging, etc all hire photographers based on different needs. First and foremost they look at the quality of your photography, the consistency of your photography, how applicable your style is to their needs, and so much more. Beyond just your imagery, the look to see if you own your own gear, have your own studio, have you worked with good food stylists, good prop stylists, who else have you shot for, have you been published, etc … Then there are many X-factors such as if you've worked with anyone they know, if they think they can trust you to do a a good job, and if are even looking for new photographers right now or if they're happy with who they've been using. So as far as special qualifications there are many.
Does photography take up a large amount of your time? You will never have enough time to do everything you need to do. Between taking pictures for jobs, doing all the things you need to do for the business, and then the time you need to make new pictures for yourself ("testing" as it's called) to make sure your work looks fresh and new, it's hard to find any free time. Then, in the time you don't have, you need to take care of things at home, go on vacation, hang out with friends, visit your family, network with existing clients and possible future clients, and so much more you will not have time to do.
I'm not sure what your experience level is right now, but I would consider assisting or interning for other photographers first before deciding if this is for you or not. Because if this is indeed what you want to do for a living, you will be devoting your life to it from now on. With it being considered by some to be a "dying field", the reality is that there are a lot less little jobs at the bottom of the totem pole because the amateurs are starting to shoot those, and you have to fight that much harder for the jobs as you go up the totem pole. But, the view form the top of the totem pole is great, even half way up. I love what I do for a living and I'm so very lucky that I get paid to do what I do, but it's not in any way easy.
I hope this helps,
Steve
---
About the author: Steve Giralt is a NYC-based photographer who was selected in 2005 by PDN magazine as one of 30 emerging photographers to watch. Visit his website here. This post was originally published here.
---
Image credits: The landscape photographer by TheStolpskott and a messy desk by EU Social