Oops: Nikon Uses Stolen Canon 5D Mark II Footage for D800 Promo Video
Nikon caused a stir this past weekend after it was revealed that a promo video shown during the D800's launch in Bangkok actually contained footage that was both used without permission and that wasn't even captured with a Nikon D800. After a recording of the promo was uploaded to YouTube in mid-February, people began coming forward with reports that Nikon had used their videos without permission.

Norwegian photographer
Terje Sørgjerd
— whose
amazing time-lapses
we've
featured
multiple times — spotted some of his video clips in the promo, and
was quite surprised
— especially due to the fact that he's sponsored by Canon and that the videos were shot with a 5D Mark II: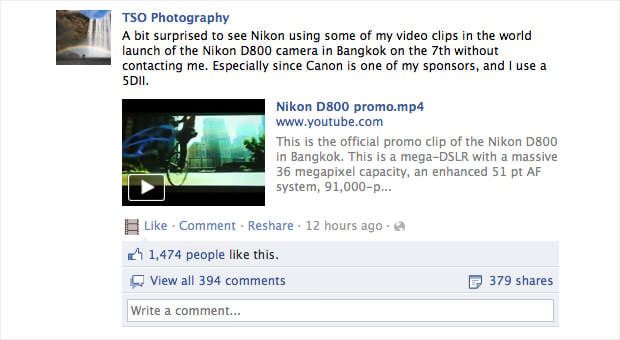 Here's the video that made a cameo in the promo:
The shot at 2:13 in Terje's video is seen at 0:18 in Nikon's promo.
What's more, snowboarding scenes in the promo (e.g. 0:50) were taken from the film The Art of Flight, a snowboarding film loaded with footage captured with the Phantom HD Gold high-speed camera.
On the bright side, Nikon was quick to fess us and apologize for the mistake. A day after his complaint through Facebook, Terje posted another message stating that Nikon had responded and that the matter is now "fully resolved":