Yahoo Still Has Feelings for Flickr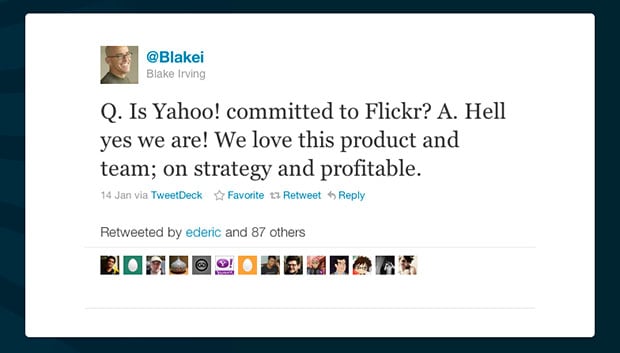 In case you're wondering whether Yahoo still cares about Flickr (acquired in 2005), the answer appears to be yes. Chief Product Officer Blake Irving recently tweeted a short message affirming the company's support for the popular photo sharing service, saying,
Q. Is Yahoo! committed to Flickr? A. Hell yes we are! We love this product and team; on strategy and profitable. #
How profitable? No one (except them) knows. Photography blogger Thomas Hawk estimates that it brings in about $50 million annually.
This should give loyal Flickr members some peace of mind knowing that even though they might sometimes feel unloved, Flickr doesn't appear headed towards the same fate as Delicious, the bookmarking service also acquired in 2005 that Yahoo doesn't love anymore.
(via Thomas Hawk)