Interview with Heather Champ
Heather Champ is cofounder of Fertile Medium, an online community consultancy. She was formerly the Director of Community at Flickr and the co-founder of JPG Magazine, which she started with her husband Derek Powazek. Visit her website here.
---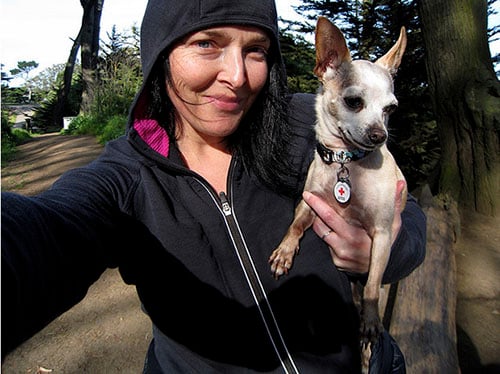 PetaPixel: Can you tell us about yourself and your background?
Heather Champ: Living in San Francisco, I'm roughly 2,439 miles and worlds away from Ottawa, the city of my birth. There's very little of my accent left, though there will be a moment when I can see the wheels turning in someone's brain and that follows with "are you Canadian?" I have a studio fine arts degree and have hopped and skipped my way through a variety of careers that have built upon that creative foundation.

PP: How did you first get into photography, and what was your first camera?
HC: Both of my parents were inveterate shutterbugs and they were quite happy to put their cameras into my hands. I think some of my earliest (and now lost) photographs were of "old barns falling down" of which there were many in the rural Ontario landscape. My mother purchased an SX-70 when they first came out and I think that I was hooked on instant photography from that moment.
My first serious purchase during my first year at University was the Minolta X-700. I loved that camera and was quite sad when it was boosted out the trunk of my car in Hamilton Ontario.
PP: How did you get involved with Flickr?
HC: Caterina [Fake] was one of the first people I met when I moved to San Francisco in 2000 as she was a friend of my then boyfriend/now husband, Derek. I became an alpha tester of Flickr in January 2004 when Stewart IMed me. After the Yahoo! acquisition in 2005, I joined the team in Sunnyvale as Community Manager.
PP: What was a typical day like when you were working at Flickr?
HC: Typical? I don't know that I would use the word typical within the realm of community management at any company. In my role at Flickr I wore many hats, some of them editorial and others related to issues that arise when members rub each other the wrong way. Each day was a tango of bits and pieces of the two. Some days I was going over policy documents with lawyers, others I was learning things I may not have wanted to know about the members. Encompassing it all was the incredible community of members sharing their lives through photography.
PP: What's something about Flickr that most people don't know?
HC: Don't know? Or don't want to know? How about clinging to the belief that the Top 500 is picked by hand or that a member can be blacklisted from having their photos appear in Explore? Neither is true.
PP: What are some tips for photographers who wish to gain exposure through Flickr?
HC: Like any community, a member will only gain benefit if they participate. There were infrequently people who would arrive in the Help Forum after only posting photos and wondering why they hadn't been picked up by Magnum yet. (I'm stretching the truth a little, but the feeling was the intent.) Find kindred spirits through groups or other's favourites — leave comments and make galleries. More importantly, getting your photos into Explore isn't the be all and end all. There are millions of photos uploaded every day. The Top 500 is a tool for visitors to springboard into the greater wealth of the photos shared on Flickr. If you're photos never get into Explore it doesn't mean that you're any less of a photographer than someone who does.
PP: How do you feel about where Flickr is headed?
HC: Within my first week at Flickr, I posted on FlickrBlog about the 17 millionth photo upload to Flickr. When I left, there were about 4.6 billion photos. She's very much grown from an infant through her gangly adolescence, maturing into a gorgeous young woman. I think that Flickr continues to be the best place to be a photograph online.
PP: Can you tell us a little about how you guys started JPG Magazine?
HC: Derek and I are both very passionate about personal projects. In 2004, print on demand entered the realm of the affordable. There were all these photobloggers taking incredible photographs and we wanted to bring them into a tangible form. It began very much as a labour of love, a conversation back and forth between the two of us supported by and incredibly generous community of photographers. The first issue, "Origin", is still very dear to my heart.
PP: What would you have done differently if you could go back and start it over again?
HC: Ha. I have a ring with "je ne regrette rien" stamped on the inside. We're made more human by the sum of our life experience and I think what we choose to do moving forward is far more important than looking back in effort of "what if….".
PP: Tell me about Fertile Medium. How did it come about and where is it headed?
HC: Fertile Medium is a small consultancy I started with my husband Derek. We believe that the net is the best medium we've ever had to create community. But it's complicated because human beings are complicated. So we help companies conceive, design, implement, and manage community features. We're both very passionate about online community, and want to see it done right.
PP: What does a typical day look like for you these days?
HC: If you were to ask our pups, they would tell you that my new role centers around catering to their every whim. If the morning walks haven't begun by 8AM, there's hell to pay. With regards to my work, I've hung up many of those hats that I wore at Flickr, but kept the ones where I get to focus on the aspects of online community that I adore. One of the fun things about running a consulting company is meeting with all kinds of people working on new and crazy projects that will further enable communities both online and off to pursue things that they're passionate about.
PP: How often do you shoot these days?
HC: Worst case scenario: 1 instant photo a day. I'm in the midst of my second "photo a day" type project — Instant 2010. Better case scenario is that I manage to take a few photos during my morning walk with the dogs or when I'm out and about at some point in the day. The Olympus XA is small enough to slip into a pocket. I've been shooting more black and white with that camera (either Ilford XP2 Super — the C41 process "black and white" film, or Fujifilm Neopan 1600 set to 800 ASA that Photoworks pulls a stop for me during processing).
PP: Do you develop and print yourself?
HC: I don't, but I wish I did. I'm actually skipping prints these days given that I've already got a huge pile of prints that will be nothing more than fodder for recycling one day.
PP: How do you digitize your analog photography?
HC: Ahem, well, anything 35mm colour goes to Walgreens (my local pharmacy — and yes, I can hear you all shouting out in pain from here) for one hour processing, as I'm too impatient. Everything else, black and white 35mm or 120 film goes to Photoworks. They're a great film lab at Church & Market. While I do have an Epson V700 sitting under my desk, I've grown lazy. Both Walgreens and Photoworks scan my photos onto CD.
PP: What gear do you shoot with these days?
HC: It's a crazy mix. An Olympus XA, a Polaroid 680 SLR, a 4 x 5 pinhole camera that I made out of foam core last week, and a Zero Image 4 x 5 pinhole camera. A friend from Germany gave me his grandmother's Dacora Digna, so I've been running rolls of 120 through that. I also carry around a Canon SD960 IS more for documenting things.
I'm really intrigued with pinhole photography and making my own cameras. I overcame my fear of making pinholes by creating four little film canister cameras to give solargraphy a hand. There are four of them outside around our house and I'm going to bring them in on Wednesday after a month long test. If all goes well, I'll refill them with new paper and put them out for 6 months, capturing the path of the sun from autumnal to vernal equinox.
The 4 x 5 foam core pinhole camera came out of a desire to take pinhole photos that are "less wide" than 75mm (which is the maximum I can shoot with my Zero Image camera). The film is 4 inches from the pinhole so it's definitely "less wide", but I didn't measure the pinhole, so it might not be the best pinhole size for that configuration. I wanted to prove to myself that it could be done. I'll definitely be more precise with my second camera. (I think building cameras is like tattoos –- you can't stop at one.)
With just around 100 days left in my second "photo a day" instant film project, I'm working my way through my cache of expired Polaroid 600 film. That said, I absolutely adore the Silver Shade and Color Shade films that the Impossible Project has been producing.
For me, photography is as much if not more about being in the moment than it is about the end result (the photo). It might sound a little crazy, but I feel that I engage with my world a little differently and begin to look more closely at subtle little things in the world around me. It's a kind of time travel. Now I just sound crazy.
PP: What's the most important thing you've learned about photography thus far?
HC: That's a really tough question. "Don't be afraid to take risks". I've gotten more comfortable with asking people if I can take their photos. I've had some wonderful conversations with people as a result of a simple "may I take your photograph?"
PP: Is there anything on your gear wish list?
HC: If you'd asked me last week, I would have said an Epiphanie camera bag, but my friend Maggie gifted one to me on Friday night. (Ladies, it's the bees knees.) A darkroom has moved to the top of my list. I'm making my way through "The Pinhole Camera" by Brian Krummel to broaden my pinhole repertoire and developing black & white paper will be next weekend's adventure.
PP: Tell us a little about your upcoming 10/10/10 project. How did it come about?
HC: Back in 2007, we asked the Flickr community to participate in 24 Hours of Flickr on May 5th. It was remarkable to see the similarities of what people were experiencing on that day — Cinco de Mayo around the world, birthdays, graduations and weddings. Despite all of our geographical and cultural differences, we humans have are living very similar lives. October 10, 2010 being 10/10/10 was far too good an opportunity to miss. I'm looking forward to seeing the world through the eyes of people who participate.
Hey you, if you're reading this… I hope you participate. You can sign up for a one time email reminder here.
PP: What are some of your favorite photography-related websites?
HC: The Impossible Project (I'm a fan of their film). I think that dpreview is a great site for info on digital cameras. Also, toycamera.com for all things plastic and lovely and the The Big Picture (for the big picture). I tend to do much of my viewing of individual photographers on Flickr rather than elsewhere, like photoblogs, etc.
I tend to do much of my viewing of individual photographers on Flickr rather than previously on photoblogs.
PP: Is there anything else you'd like to say to PetaPixel readers?
HC: I'd like to thank you for the opportunity to be interviewed.
And that people should keep taking photos.