Nikon Officially Announces D3100 and Four New Lenses
After an eternity of rumors and leaks, Nikon has just officially announced the D3100, an entry-level DX format DSLR replacement to the D3000. The main selling point is 1080p video recording at 24fps in h.264 with continuous autofocus, a new feature for DSLR cameras. The 14.2 megapixel camera has 11 autofocus points, a 3-inch LCD screen, an ISO range of 100 to 3200 (can be expanded to 12,800), and 3 FPS shooting. The camera will be out in September at the price of $699, bundled with a 18-55mm VR kit lens.

In other news, Nikon simultaneously announced four new lenses.
AF-S NIKKOR 24-120mm f/4G ED VR ($1,049.95)
AF-S NIKKOR 85mm f/1.4G ($1,699.95)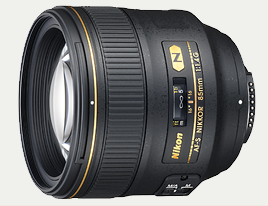 AF-S NIKKOR 28-300mm f/3.5-5.6G ED VR ($1299.95)
AF-S DX NIKKOR 55-300mm f/4.5-5.6G ED VR ($399.95)
This news didn't exactly come as a surprise: a German photo magazine already published the news unofficially at the end of last week.