"Photo Grandpa" Shoots with Laser Rigs
Belgian photographer fotoopa ("photo grandpa" in Dutch) shoots ultra-high speed photographs with laser rigs he builds himself. He tells us:
I'm retired, and work inside in the winter making high-speed pictures of water figures. In the springtime and summer I'm outside to capturing insects in-flight. I have a mechanics (15 years experience) and electronics (26 years) background, but photography was always my hobby.

All of my equipment is do-it-yourself. Macro photography has always been one of my favorite types of photography.
Descriptions and diagrams of his rigs are posted for 2008 and 2009. Here's a glimpse at one of his setups:
To capture insects in flight, his rig detects the insects using two crossed laser beams. This causes a "superfast electro magnet" to trigger the shutter, which opens and closes in less than 5 milliseconds. Shooting at f/22 and ISO 100, he uses 2 or 3 external flashes at minimum power to obtain sufficient light at so short a shutter speed. He adds,
For insects in-flight, a special second shutter system provides the short shutter-lag of ~7 msec necessary. There is also a high-tech IR laser system with an extra third macro-lens and internal AVR controller. In 40 microseconds, this system sees (using the reflected IR light into the detector lens) if an object comes in focus, and give the information to the central CPLD hardware controller that drive the whole system. In this manner even very fast moving insects are in perfect focus in the picture frame.
In the winter, the water figures are done indoors. First done in 2004, I covered a speaker with a membrane, and put a digital wave through it to move the fine colored droplets on the membrane. This provides wonderful images and an unlimited number of possibilities.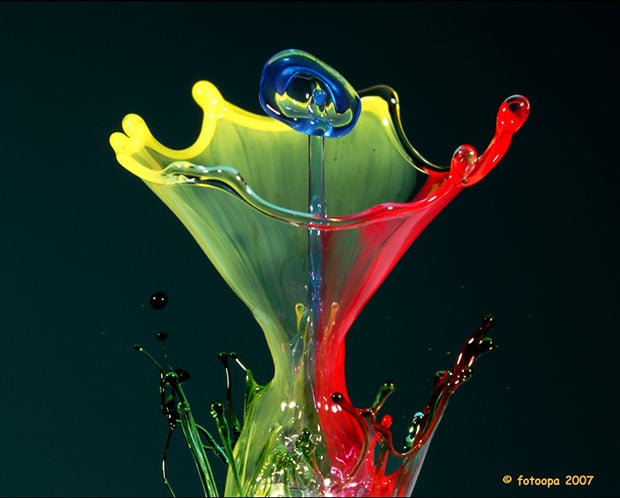 For 2010 I built a 3D stereo setup to capture all the high-speed macro pictures in 3D. The setup uses 2 DSLR Nikon cameras, the D200 and D300
To see more of these amazing photographs, you can check out fotoopa on Flickr or on pbase.
---
Image credit: Photographs by fotoopa and used with permission.