Interview with Jonathan Greenwald of Shrued
Jonathan Greenwald is the photoblogger behind Shrued.
Portrait by Kathleen Connally.
---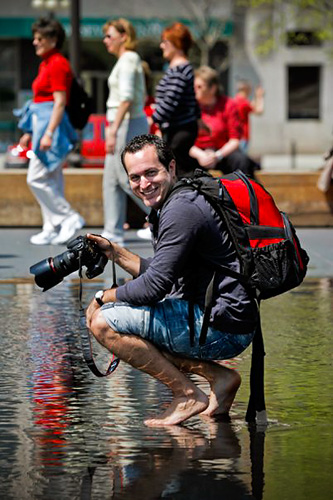 PetaPixel: Can you tell me a little about yourself, your interests, and your background?
Jonathan Greenwald: Sure, I was born in Brooklyn, NY. Growing up, my interests ranged from playing sports, getting into trouble with my friends, and having as much fun as possible. Today, the same holds true with one exception; I no longer live in Brooklyn. I now reside just North of Toronto in Vaughan, Ontario.
PP: What do you do for a living?
JG: I'm a service account manager for Sun Microsystems.
PP: Why is your photoblog called Shrued?
JG: Unfortunately the story is not very interesting. I first discovered photoblogging by visiting photoblogs.org and the first site I visited was Chromasia. I really wanted a cool name for my own photoblog so I started mashing words together to come up with something clever. Somehow I got Shrued and my photoblog was born. In the beginning, everyone felt the need to inform me I incorrectly spelled shrewd. I thought about changing it to avoid these comments, but decided not to in the end.
PP: How did you first become interested in photography, and what was your first camera?
JG: When I was a teenager, my dad gave me a pentax to play with. I really enjoyed taking photos, changing film, and taking the exposed film to the lab for developing. That's when I was first really interested in photography. Oddly enough, the interest was lost when I started driving and no longer cared to walk around with a camera around my neck.
PP: What's in your gear bag nowadays?
JG: Well, to backtrack, it wasn't until 2005 when I got bored and needed a hobby. Someone told me about the Gates in Central Park, so I borrowed my Dad's point and shoot and headed over. I showed my family and friends the photos and they convinced me to get back into photography, some 20+ years later. A week later I convinced my dad to take a ride with me to a photography shop and picked up a canon digital rebel 300d. I shot with it for a year and a half and gave it to my dad. I picked up a 20d which is the body I've shot with ever since. I also carry a 17-40 and 24-70 lens with me.
PP: Do you still shoot film?
JG: About 2 years ago I bought a holga and shot a few rolls. I really enjoyed the results; however, not knowing what the results would be until I brought the film into a lab bothered me. I prefer the instant gratification of a digital camera. My dad also gave me a polaroid 103 which was fun to play with and he gave me his pride and joy, the canon ae-1 which growing up I was never allowed to touch. I see others shooting primarily with the ae-1 and sometimes consider it as a backup camera or something to play around with from time to time, but again, I don't think I have the patience for it.
PP: What is your goal in photography? Why do you shoot?
JG: In the beginning it was all about architecture. My undergrad is in architecture so I was essentially pulled into that area of photography from the onset. It wasn't until I did a photo walk with one of my photography friends that I discovered street photography, my real passion. I shot a lot of homeless people in nyc and toronto and from that, found myself being asked a lot of questions about the photos. I was interviewed by someone at ABC world news tonight online edition, and several magazines around the world posted my photos with short blurbs about me. I thought about using that experience as a jumping off point into photojournalism until I found myself living in toronto and then moving up north to suburbia.
PP: Can you tell me about your workflow?
JG: I'm probably one of the most unorganized photographers in the world. I have changed my workflow several times over the course of the past 4 years. At one point, I was pulling images directly from the camera via the digital link to my desktop pc. It wasn't until I picked-up a macbook pro that I shifted gears and began importing images via iView Media Pro. I didn't follow any sorting method which was always a big mistake because locating images was always a tedious, labor intensive exercise. I have two backups of my raw (out of camera) images as well as the processed tif (large format) and jpg (web). I think this is where I mention please don't apply these same techniques on your own. As for the digital workflow or processing, I sort through the photos I have taken. Once again, I shoot a lot. For every 2-3 photos the average photographer snaps, I probably snap 10. I am a big fan of burst shooting as I am always concerned about missing a shot. when I find the photos I want to process, I import the raw files into Photoshop CS4 and typically upsample. I make very limited adjustments in Camera Raw. Most of my processing, as subtle as the modification may be, are done within photoshop. I have been playing around with Lightroom more and more, especially since there are countless plugins which provide instant processing adjustments which would take me hours to recreate.
PP: Why do you do the bulk of your editing in Photoshop rather than in Camera Raw?
JG: Layers in photoshop allow for better management of the changes. If I make several changes to an image (selective color) unsharpen mask, curves, layers, etc, I can hide each layer to review the various effects. I may adjust white balance and exposure in Camera Raw; however the only real purpose for me is the upsampling.
PP: Can you briefly explain what upsampling is?
JG: I still shoot with an 8mp canon 20d. I am often limited in the size of my prints. Upsampling is an arguably safe way of enlarging the effective megapixels of an image. An 8mp raw image is often 25mp within photoshop after upsampling.
PP: How do you back up your images?
JG: I have two external hard drives: a 1TB and a 350GB drive. I keep a copy of the Raw and processed image on both drives.
PP: What is your favorite type of photography and why?
JG: I love photos of people. Interactions between individuals can result in the most interesting images. Not all images of people need to be candid; however, it is often the subject who does not realize they are being photographed who provides the most interesting results. NYC and Toronto have their fair share of interesting subjects.
PP: How do you go about taking portraits of strangers on the street?
JG: When I first started photographing strangers, it was via shooting from the hip. Essentially I would hold my camera on my hip and walk past someone I wanted to photograph. 8 times out of 10 I missed the shot; however, when I was lucky enough to capture their image, it was often very rewarding. Today, I'm more aggressive without actually giving the impression I'm photographing someone. First, I never look anyone in the eyes before, during, or after photographing them. I never want them to know I'm taking their photos. Sometimes I pretend to be shooting past the individual. Just another way of avoiding contact. There are exceptions to my shooting style and there have been times when I ask someone if I can take their photo; albeit, these situations are few and far between. I found myself the subject of a heated discussion when an interview I gave about photographing homeless people was released. Most people didn't favor my style; they seemed to prefer I approach individuals and ask permission. I believe they thought I was exploiting the individual. I tend not to listen to anyone about photographing people on the streets. It really depends what you are after as a photographer and more importantly, your comfort level with your subjects.
PP: Do you have any awkward or memorable stories from your street photography experiences?
JG: There were a few times when I was approached by people who were not pleased with my camera in their face. I was once chased down 42nd street by a homeless person, and while photographing a dumpster diver in chicago during a photo roam with other photobloggers, the individual, who did not appear to be someone to be taken lightly, began yelling at me. I regretted putting my fellow photobloggers in that position and was glad it didn't result in a confrontation. I've been asked countless times by people if I took their photo and on every occasion, I simply say nope and walk away.
PP: Are there any photographers that you follow online?
JG: Yeah quite a few. durhamtownship, thinsite, ddoi, JVL's specs, MUTE, wastedphotos, chromasia, and many others. I've befriended many of these photobloggers over the past 4 years as a photoblogger.
PP: Who is one person you would like to see interviewed?
JG: Great question. One of my favorite photobloggers and a really great guy is Attila Schmidt of Thinsite. He doesn't take himself too seriously and the commentary which accompanies his photos are often very funny.
PP: Do you have anything else you'd like to say to PetaPixel readers?
JG: Have fun and be your own person. Everyone will critique you and offer their "professional" opinion, but at the end of the day, you need to shoot for yourself and determine what your own style of photography will be. There are countless photographers out there who you can learn from and who won't mind offering their advice; at the end of the day, you want to be recognized for your own creativity. Most of all, never leave your camera at home. I may not always feel inspired or know what you will photograph next; however, there have been plenty of times where the perfect moment was right in front of me and I was unable to capture it. Finally, don't hesitate to reach out to me if anyone wants to know about a specific photo I have taken or has additional questions about street photography. I still love answering these types of questions and am always humbled when asked about my photography. Thank you for this opportunity.