How to Shoot Milk Bath Photography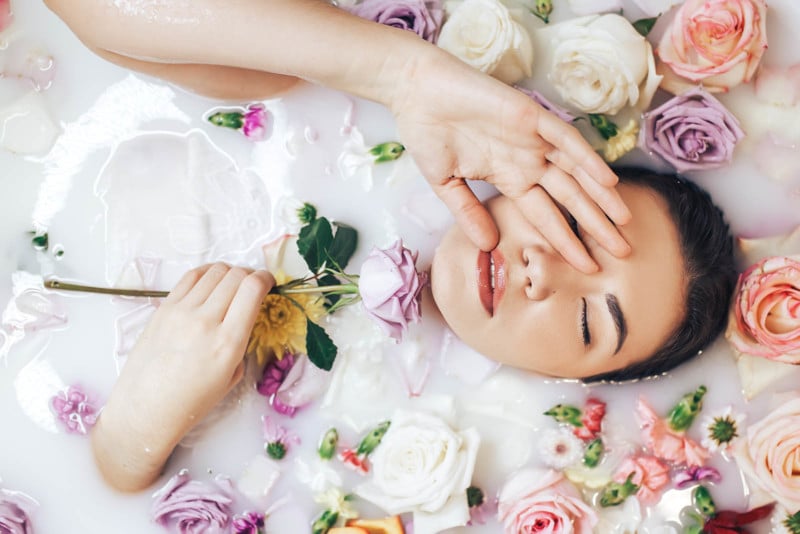 Milk bath photography is not a new concept, but it can add something unique to most photographers' portfolios in genres ranging from maternity to newborn, portraits, and even boudoir images. This complete guide will teach you what you need to get started and how you can incorporate milk bath photos into your work.

Table of Contents
Why Shoot Milk Bath Photos?
A milk bath gives a blank canvas that photographers can use creatively. The translucent — or completely white — water adds an ethereal and soft feel to the photos, appealing to photography clients looking for flattering and sensual images.
Milk bath photography is trendy for maternity, newborn, and baby photos, but photographers can also use it for creative portraits, boudoir, and bridal shoots. For example, expecting mothers have a chance to showcase their bump in a safe and controlled environment.
Meanwhile, photographers have the opportunity to add something special with every shoot with the help of props and interesting compositions that frame the subject and their features, like hands, face, bump, hair, and back, against the milky white water.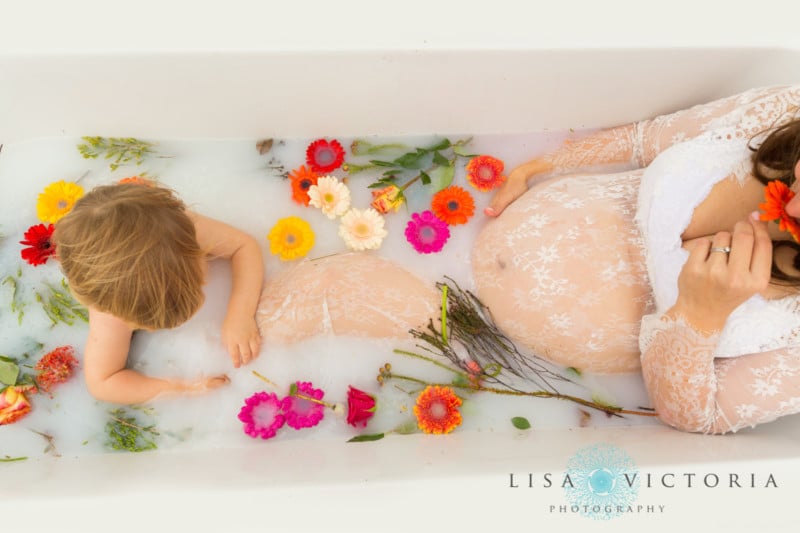 United Kingdom-based family photographer Lisa Victoria from Lisa Victoria Photography has been doing maternity milk bath photoshoots for over eight years. She first came across the concept on Pinterest, and one of her booked clients asked if she would be willing to do a milk bath shoot with her.
"As a specialist maternity photographer, having this element attracts clients I might not have normally got," Victoria tells PetaPixel regarding the benefits of adding milk baths to her repertoire. "I also find that they find my work on Pinterest and then book me for their photoshoot."
Pick Your Shoot Location
Photographers have several options for picking a shoot location. It could be the clients' bathroom, an appropriately equipped photo studio, a hotel room, or a place rented through companies like Airbnb.
The client's bathroom will provide a familiar environment which can be helpful. Victoria notes most of her clients use their bathrooms because they are already accustomed to getting in and out of their bath. Nonetheless, she always assists them in getting in and out, especially if there is no bath mat.
Some clients may prefer hiring a studio, a hotel room, or an Airbnb. While doing so may be the only option for those who don't have a bath at home, photographers should always check that the bath in those locations will be suitable for a photo session.
On their websites, some hotels only show what a typical room will look like and may not have a bath as shown online, so it's worth double-checking before booking it for a shoot.
But, photographers don't necessarily need access to a bathroom that is spacious or has a free-standing bath. You can do intimate milk bath shots in most bathrooms, and you don't need to worry about including wider photos of the bathroom unless the room size and interior permit it or the client requests it.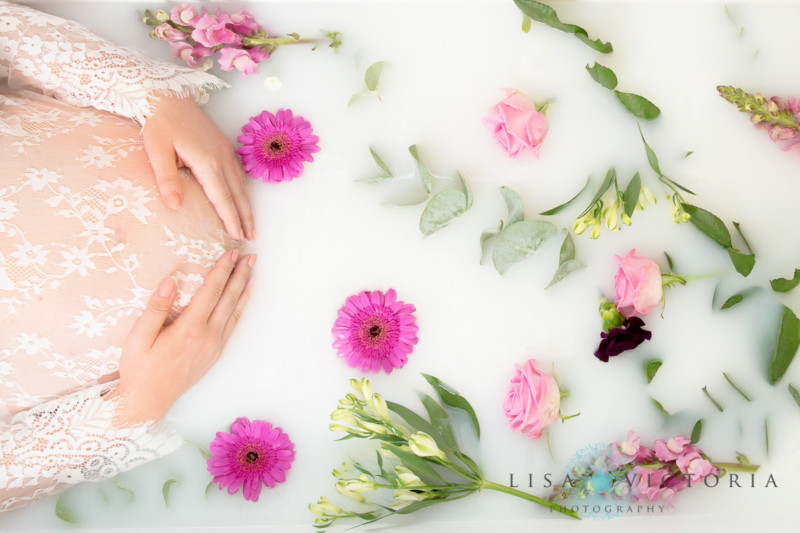 Similarly, if you photograph children, you can use smaller tubs indoors or outdoors, as well as the clients' kitchen sink if it's big enough. The sink will often be near a kitchen window, which can give plenty of natural light.
Consider Safety Practices
Health and safety are essential for milk bath photography, particularly with children and expecting mothers. Victoria recommends practicing with a friend or family member first. Once you are more confident in the process, you can also practice with your children and start offering shoots to clients.
When photographing in a bathroom, it's crucial not to let any electrical equipment get wet or placed too close to the water. For example, Victoria is cautious if she uses artificial light — she puts it near the bathroom entrance facing the subject as if it is an extra window. To avoid anyone touching equipment cables with wet hands, Victoria always sets aside towels for her clients and herself.
When working with electrical equipment near water, it is critical to ensure that the wall outlets being used are GFCI, meaning they will automatically be tripped and de-powered if a ground fault occurs — such as if a wired light falls into the bath — to prevent electrical shocks. If the outlets are not GFCI, make sure you bring a GFCI safety power strip.
Photographers should also consider using a camera strap or harness to avoid damaging the camera or hurting the client if, for any reason, the camera slips out of hands or the photographer trips or falls.
If you work in a smaller bathroom with limited ventilation, consider having a glass or bottle of water nearby if you or your clients feel a little dizzy from the heat and need to refresh themselves.
Pick Gear Based on Bathroom Size
Bearing in mind that not every bathroom will be spacious enough to use a long lens, Victoria opts for a wide-angle lens which gives room for flexibility. Having shot with a wide-angle lens for years, she has found that it allows capturing everything she needs.
"I rarely find a finished image of the whole bath head to toe is the best shot," she explains. "Most creative crops look best."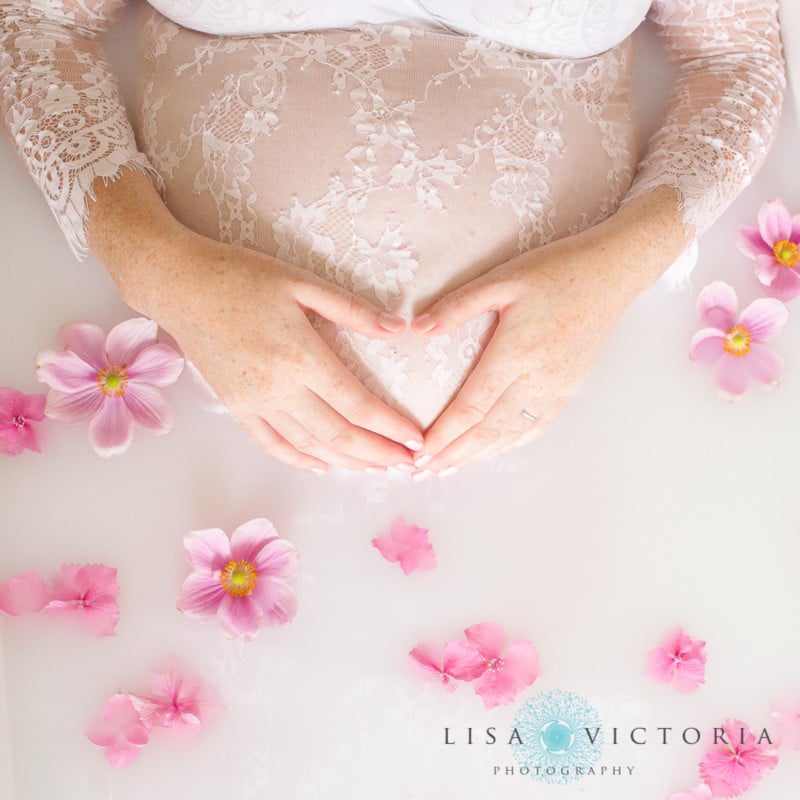 Some bathrooms may have poor natural light. This is where fast prime lenses with a maximum aperture of f/1.2 and f/1.4 will come in handy, although you shouldn't dismiss kit and zoom lenses, either.
For children shoots in smaller tubs or sinks, a longer lens, like 50mm or 85mm, can help create a pleasing separation from the background, especially if the shoot takes place outdoors or in a kitchen, not a studio.
Advise Clients on Outfit Choice
Some photographers who do milk bath shoots more frequently will have a wardrobe with suitable client outfit choices. Having a small selection of tried-and-tested outfits makes it easier for photographers to know how well they look in photos and how easy it is for clients to pose in them.
For maternity and portrait clients, lace gowns in light neutral colors — with or without nude or white lace underwear — will add to the softness and the ethereal look. Outfits that don't restrict movement, like underwear, swimwear, light dresses, tops, and gowns, will make it more comfortable for the subject to pose in a bath.
You can also use long strips of light or sheer fabric that the subject can wrap around their body. But, if you want to add more contrast between the subject and water, dark outfits will do the trick.
Almost all of Victoria's clients do their own hair and make-up, with the majority choosing a fresh look that is not too heavy. She recommends that her clients get ready as they would typically because there is no need to change their hair or make-up routine drastically.
On the other hand, babies and young children will likely enjoy the shoot being nude, especially if posing skin-on-skin with their mother. Some adult clients may also prefer to finish the session in the nude, for example, when breastfeeding or holding their baby.
How to Prepare the Client and Bath
Victoria doesn't go straight to photographing her clients in the bath. Instead, she takes time, so they become relaxed and feel comfortable with her presence for such an intimate session.
"They don't even notice themselves taking more and more clothes off," she explains. "I always hand the gown to clients to get dressed in private and say if you need any help, then let me know."
"I always take it off when they are standing in the bath and always help them," she continues. "It is very clingy at the end, and you do not want the client to fall or slip while struggling to take off the gown."
Victoria or the client's partners will run the bath — warm but not too hot. It's essential to ask the client to check the water and confirm they are happy with the temperature. Seeing as they won't pose in the bath for too long, around 30 minutes at most, there is no need for the water to be hotter than usual. Victoria generally fills the tub with water just enough to cover the underpants.
Sticking with warm water instead of hot is not only a sensible safety precaution, but it will also help avoid your client's skin becoming blotchy and red from the heat, which may be time-consuming to correct in post-processing.
Adding the Milk and Decor
You can add milk just before the client gets in the bath. It's recommended to do it after the tub has been filled with water, not during running water. The amount of milk added will depend on how translucent you want the water for the photoshoot.
Photographers can use cow's milk, with the full-fat option giving the best results. Other choices include milk powder, goat's milk, or a vegan alternative.
After the milk has been added, you can put flowers and other decorative things in the water to add a splash of color and interest to the photos. Victoria does so once her client is in position and the bath has the desired milk and water ratio.
You can place the flowers in the water and around the subject. Other ideas include adding fruit, like sliced oranges and grapefruits, to the water or decorating the sides of the bathtub with plants, additional flowers, or candles to frame the subject. Similarly, adults and children can wear floral crowns or headbands or decorate their hair with fresh flowers.
"I like to start with just a few [flowers] and limit the colors (before I add all flowers into the bath) — some float and others sink a little, I am never concerned about this as it looks very natural this way," Victoria explains.
When you've finished shooting, remove the flowers and other props first before emptying the bath. Otherwise, they will soon cause a blocked drain.
Natural Light or Off-Camera-Flash
Although most bathrooms are light because the light bounces around the tiles, as mentioned earlier, photographers should always be prepared for poorly lit bathrooms, too. For example, some bathrooms with limited access to natural light will likely give a yellow tone from a standard household light switch, causing unflattering shadows.
For Victoria's style of photography, she aims for a fresh, bright look. With that in mind, if the room doesn't have enough natural light, she adds a softbox. Like natural light, using an off-camera flash can easily brighten up the bathroom as the light bounces around the room.
If you work with natural light, you will likely encounter uneven exposure, particularly if it's a cloudy day. For that reason, shooting with a softbox or alternative light source can keep photos consistent and make editing more straightforward and quicker.
Before starting the shoot, Victoria also sets her white balance using a custom white balance setting in her camera. She chooses the water with the added milk as her marker to avoid the water appearing a little gray or murky green.
How to Pose Milk Bath Subjects
For safety reasons, Victoria never stands on the sides of the bath when shooting. Instead, she is on the floor at all times and leans above or to the side of her client. Depending on the bathroom shape, she can sometimes get behind them, which can be an easier angle for taking photos.
Photographers can think of the session as a step-by-step process when posing adult clients. Start with different compositions of the client's body slightly submerged in water while they are sat up or their head rests against the back or side of the bath, without getting their hair too wet.
Later on, you can guide your client to lay lower in the water, posing with their chest facing up or laying on their side. When posing maternity clients laying on their side, the white water around their body contours will help emphasize their bump.
Once fully submerged, you can be creative with close-up portraits, with just the subject's face visible or by adding their hands or shoulders in the frame.
Although posing in a bath can be a little restrictive due to the limited space, you can use a mix of angles and framing to add more visual interest to the shoot. For example, close-up photos of body parts or images that exclude the subjects' faces will help bring variety to the final gallery.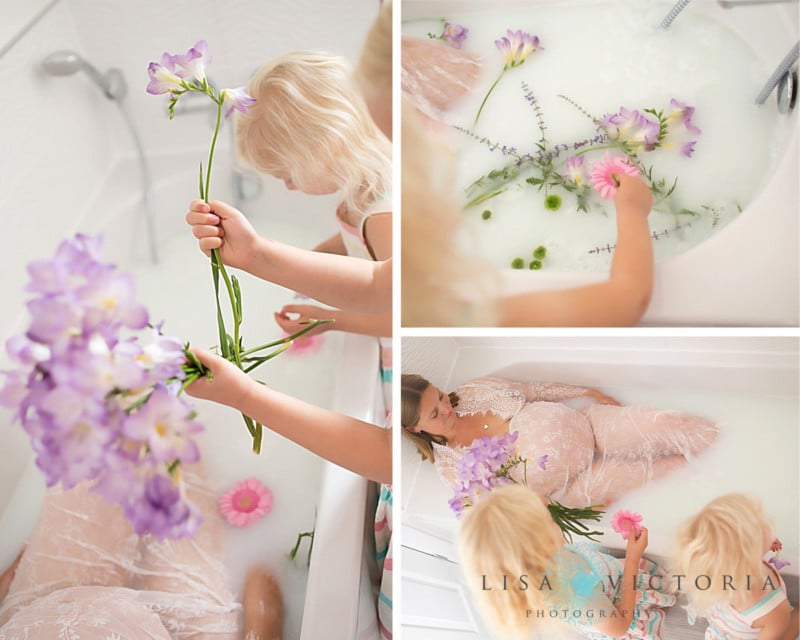 If it's a maternity client, consider asking if their children want to be a part of the shoot, too. They don't need to be in the bath, either, especially if they are older. But, they can still be a part of the process, which can help create cherished memories for the family.
The Joy of Milk Bath Photography
Milk bath photography is a beautiful type of photography that photographers across various genres would benefit from trying at least once. While it does take some planning and preparation, the resulting portraits are an intimate expression of your subject's beauty and will be a fantastic addition to your photography portfolio.
If you are looking to flex your creative muscles and explore a new subject you have never attempted before, give milk bath photography a try — you won't regret it.
---
About the featured photographer: Lisa Victoria is a family photographer based in Bristol, UK, who loves milk bath photography. She is available for baby, family, maternity, and commercial photography. More of Victoria's work can be found on her website and Instagram.
---
Image credits: Lead photo from Depositphotos. All other photos by Lisa Victoria Photography.