Photographer's Long Exposures Show Heavy Surveillance for APEC Summit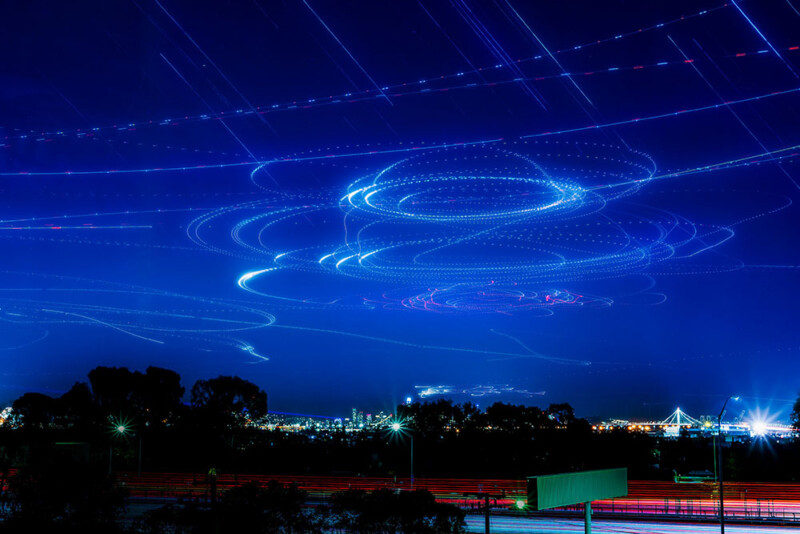 A photographer captured the huge aerial surveillance operation above the APEC summit in San Francisco last week with an awesome image that combines 150 long exposure photos.
Ian Servin is a pilot as well as a photographer and he watched as aircraft belonging to multiple U.S. law enforcement agencies hovered and circled above the city for the high-profile summit that included a visit from President Xi of China.
"California Highway Patrol had helicopters down low and fixed-wing aircraft up higher," Servin tells PetaPixel. "Federal agencies also participated including a Department of Homeland Security helicopter and FBI fixed-wing aircraft."
From his apartment in Oakland, Servin used a Sony a7 III with a 50mm lens and began capturing long exposure photos of the night sky with the city below.
"I have captured other longer exposures of aircraft orbiting, but they weren't very good. I thought that because of the sheer number of aircraft involved, this attempt might work better," he explains.
"I definitely didn't know how it would turn out, I just adjusted my exposure to a 30-second shutter, set up the built-in timer on my camera, and let it sit for a couple of hours.
"As I started stacking the images and seeing it come together, it was a really pleasant surprise. I had to do very little adjustment for color and framing to get to my final image."
Most of the a/c involved were CHP fixed wing and helicopter assets.

I think I see trails that don't match with what I saw on ADS-B, possible there were other operators not squawking. I'll keep an ear on the radio tmrw to see if I can ID anyone else.

ADS-B Exchange time lapse: pic.twitter.com/KiLO60sprW

— Ian Servin || @airplaneian.com on Bluesky (@airplaneian) November 15, 2023
Servin explains that only the California Highway Patrol was broadcasting ADS-B data — information that shows up on flight tracking websites.
"The federal aircraft were not transmitting so you have to ID either visually or by listening to air traffic control radio where you will hear their callsigns which are often unique to the agency as well as aircraft type," he says.
"Overall, what I saw during APEC was a fairly common setup for high-profile events, you would see something similar for the Super Bowl, for example."
Servin says that his photo is "just a tiny glimpse" into the world of government security but he's glad that it's got more people curious about how agencies use aircraft for surveillance.
"I think with the popularity of flight trackers and the increased scrutiny of how government agencies and the military use aircraft, it's a really fun time to be an aviation geek," adds Servin.
"I got a lot of positive comments thanking me for documenting what is usually a pretty secretive activity and saw good discussions elsewhere where the photo was posted about accountability, transparency and ultimately better understanding how the government conducts surveillance activities domestically."
More of Servin's work can be found on his X, Instagram, and website.
---
Image credits: Ian Servin